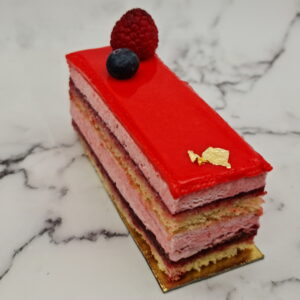 Strawberry cake 🍓 with red fruits
– Joconde biscuit
– Red fruit jelly
– Strawberry mousse
– White chocolate mirror icing
For the joconde biscuit
150 g almond powder
150 g icing sugar
4 eggs
40 g flour
4 egg whites
25 g caster sugar
Pour the almond powder, icing sugar and flour into the mixer bowl. Add the 4 eggs. Mix well. In another bowl, mix the egg whites with an electric mixer. Squeeze them with the powdered sugar. Gently add this mixture of egg whites to the previous mixture. Pour into your baking tray lined with baking paper, smooth and bake at 180°C for about 10/12 minutes. Leave to cool and then cut out the biscuit.
For the red fruit jelly
180g red fruit coulis
60g water
2g pectin
10g sugar
3 sheets of 2g gelatine
Heat the red fruit coulis in a saucepan. Add the sugar previously mixed with the pectin. Off the heat, add the gelatine softened in a bowl of cold water and wrung out.
For the strawberry mousse 🍓
250g strawberry puree
45g caster sugar
200g of liquid cream
3 sheets of gelatine
In a saucepan, heat the strawberry puree (or red fruit) with the sugar. Remove from the heat and add the gelatine, previously softened in a bowl of cold water and squeezed dry. Set aside. Whip the cold cream with a mixer and gently fold it into the previous mixture.
For the syrup
40g sugar
40g water
A little alcohol (rum)
Bring the sugar and water to the boil in a saucepan. Add a little rum or other alcohol.
For the assembly (the day before)
Take a rectangular frame of 26X11 cm. Place the first biscuit in the bottom of the frame. Soak the syrup with a brush. Pour in half the red fruit jelly and freeze for 10/15 minutes. Pour in half the strawberry mousse, place the second syrup-soaked biscuit on top, add the remaining jelly and return to the freezer for another 10/15 minutes. Pour in the remaining strawberry mousse, smoothing it out, then return to the freezer.
For the icing (the day before)
45g glucose
75g caster sugar
35g water
50g white chocolate
30g unsweetened condensed milk
2 sheets of gelatine, 2g each
Red colouring
In a saucepan, heat the water, sugar and glucose to a rolling boil (103°C). Remove from the heat and add the gelatine, wrung out and softened. Pour over the melted chocolate. Stir. Add the condensed milk, the colouring and mix. Strain and chill before use.
The next day, use the icing at 33-35C. If your cake is already up to the height of the frame, slide the frame slightly upwards by 3mm while heating the frame all around. Cover the surface of the cake with the 35C glaze. Leave in the fridge for a few minutes until the icing has set. Carefully remove the frame and cut 0.5 cm off each side of the cake, so that the layers are well defined. Cut into individual slices and thaw in the fridge.
Decorate with a gold leaf and some red fruit.