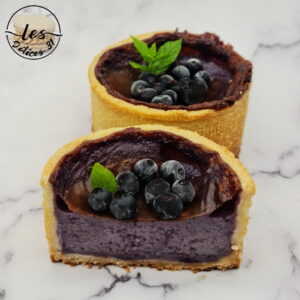 Blueberry flan composed of :
– sweet pastry,
– preparation for blueberry custard,
– blueberries.
Material used :
– sylpain-type forosil tape
– individual entremet circle

For 4-5 flans
For the sweet pastry
100 g flour
40g icing sugar
8g almond powder
60g butter
1 egg yolk
1 pinch of salt
Mix all the ingredients together, make a ball, wrap in plastic wrap and chill for 1 hour.
For the custard mixture
100g sugar
2 egg yolks and 1 egg
45g cornflour
450g whole milk
150g of liquid cream
1 vanilla pod or vanilla powder
50g mixed blueberries
Heat the milk and cream with the vanilla. Mix the eggs, sugar and cornflour in a bowl. Pour the hot milk over the mixture, mix well and return to the pan. Cook over medium heat until the cream thickens, stirring constantly. Add the mixed blueberries to the mixture and stir. Set aside.
Place a strip of Forosil (a micro-perforated strip that allows easy removal from the mould without damaging the edges of the cake and gives a nice finish) inside the pastry ring. Place in the freezer for 15 minutes. Pour in the cooled mixture and bake at 180°C for 45 to 50 minutes. Leave to cool and place in the fridge overnight.
The next day, remove the pastry ring and then the forosil strip that surrounds the flan. Add blueberries on top.