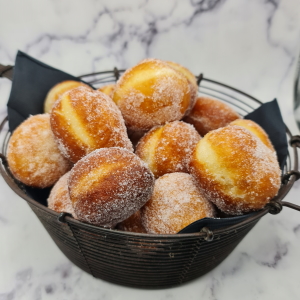 Mini sugar doughnuts or filled with
– brioche dough
– powdered sugar
– optional: topping (jam, spread, custard)
Material used
– Elongated garnishing tip
– Saucepan
– Kitchen thermometer
– Rolling pin
– Pastry cutter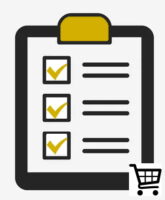 Ingredients
✔270 g flour
✔18 g fresh baker's yeast
✔50 g powdered sugar
✔ fine salt
✔2 whole eggs
✔75g milk
✔1.5 cl orange blossom
✔4g of liquid vanilla
✔40g butter cut into pieces
For about 35 doughnuts
✔270 g flour
✔18 g fresh baker's yeast
✔50 g powdered sugar
✔ fine salt
✔2 whole eggs
✔75g milk
✔1.5 cl orange blossom
✔4g of liquid vanilla
✔40g butter cut into pieces
Place all the ingredients without the butter in your food processor bowl and then knead for 5 minutes. Then add the room temperature chopped butter and knead for another 10 minutes. Place the dough in a bowl and cover with a cloth. Let the dough rest for 1 hour at room temperature, then degas it on a lightly floured work surface. Place the covered bowl in a cool place overnight.
The next day, roll out the dough on the floured work surface (1 to 1.5 cm thick). Using a small cookie cutter, cut out circles and place them on sheets of parchment paper. Let rise for about 1 hour at room temperature.
Heat a pan with oil to 180°C. Slide each doughnut with the paper into the oil and remove it. Cook on both sides then remove and place on absorbent paper before rolling them in powdered sugar.
You can then serve them plain or fill them with a pastry shell, jam, pastry cream … according to your desires.