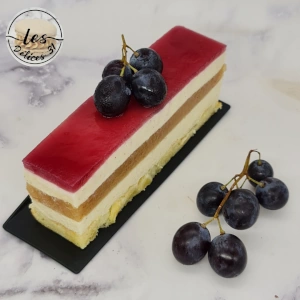 Apple and grape cake made with
– an almond and apple biscuit,
– a rum mousse
– apple compote,
– and a grape water jelly.
Material used
– Square frame 12X12x4.5 cm
– Ancel 210 bloom gelatine
– Tefal baking tray
– Baking paper
– Angled spatula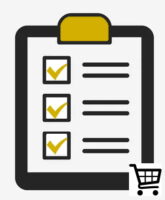 Ingredients
Almond biscuit

Almond powder

Icing sugar

Egg

Flour

Melted butter

Egg whites

Apple pieces
Vanilla/rum mousse

Liquid cream

White chocolate

Liquid cream 30% fat

Gelatine

1 vanilla pod

1 capful rum
Apple compote

Gelatine

Apple compote

Cinnamon

caster sugar

Pectin NH
Grape jelly

Black grape

Gelatine

Water
Serves 4
Almond biscuit
Mix all the ingredients in the order shown. Pour onto a baking tray lined with baking paper. Add apple pieces. Bake in a 170°C oven. Cut out a 12x12cm square and place in the pastry frame.
Vanilla / rum mousse
Make a vanilla/rum mousse. Infuse a vanilla pod in the cream. Add the gelatine, white chocolate, rum and whipping cream, then pour half over the biscuit. Place in the freezer for 10 minutes.
Apple compote
Pour the applesauce and cinnamon into a saucepan. When it comes to the boil, add the pectin and sugar. Cook for 2 minutes. Remove from the heat and add the gelatine. Pour over the vanilla mousse and place in the freezer.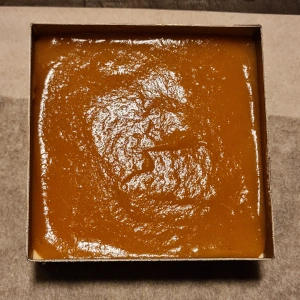 Add the remaining vanilla mousse. Place in the freezer overnight.
Grape jelly

Grape water

Gelatine
On the same day, make a jelly using black grapes that you heat in a saucepan with water, crushing it a little. When the water is coloured, filter it. Add the gelatine and pour over the frozen cake.
Chill while defrosting. Remove the frame. Serve whole or cut into individual portions.