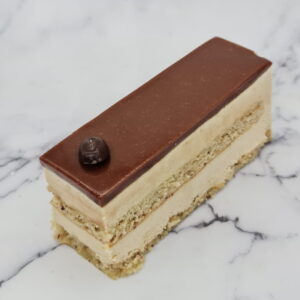 Hazelnut, coffee and chocolate cake
– a hazelnut biscuit,
– a coffee mousse,
– a milk chocolate icing.
Hazelnut biscuit
85g hazelnut powder
35g fine caster sugar
a pinch of salt
3 eggs
35g melted butter
2 egg whites
15g fine caster sugar
– Place the hazelnut powder, 35g sugar, salt and eggs in a bowl and mix. Add the melted butter and mix again.
– In another bowl, beat the egg whites until stiff with the 15g of caster sugar.
– Add a few egg whites to the previous mixture to loosen the batter.
– Add the remaining egg whites and stir gently with a pastry blender.
– I used two square pastry frames slightly larger than the one I used for the assembly so that I could cut the biscuits after baking.  Roll out the dough inside the two frames on a baking sheet lined with baking paper. On one of the biscuits, add chopped roasted hazelnuts to the surface for crunch.
– Place in the oven at 170°C and bake for about ten minutes until nicely coloured. Leave to cool and cut out your two identical sized biscuits using the pastry frame. I used a 15×15 cm square pastry frame.
Coffee mousse
20 cl cold liquid cream
Coffee extract
25 cl milk
100 g caster sugar
6 g gelatine
Hydrate the gelatine in very cold water. Heat the milk, caster sugar and coffee extract in a saucepan. Remove from the heat, add the gelatine, mix and set aside. Whip the cold cream with a mixer and add it to the previous mixture.
Assembly
Place your square pastry frame on your dish. Place the biscuit covered with chopped hazelnuts on top. Pour half of the coffee mousse (250g) onto the biscuit and place in the freezer for a few minutes. Place the second biscuit on top and then the remaining 250g of coffee mousse. Place in the freezer overnight.
Milk chocolate icing (the day before if possible)
45g sugar
45g glucose
25g water
2 sheets of gelatine
45g milk chocolate
30g unsweetened condensed milk
Heat the sugar, water and glucose in a saucepan. Remove from the heat and add the gelatine, wrung out and softened. Pour this mixture over the melted chocolate. Stir well. Add the condensed milk. Use a hand blender to mix the mixture and place it in the fridge.
The next day, remove the cake from the freezer. If your mousse is already at the height of the frame, slide the frame up slightly by 3mm. Cover the surface of the cake with the icing, which has been cooled to 35°C. Leave in the fridge for a few minutes until the icing gels. Carefully remove the frame and cut 0.5 cm off each side of the cake, so that the layers are well defined. Decorate with a chocolate coffee bean and leave to defrost in the fridge (at least 2 hours).