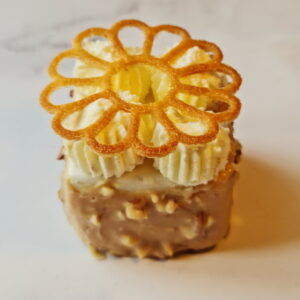 Pear and chocolate cake composed of
– an almond biscuit
– a pear mousse
– a white/milk chocolate rock icing
– poached whipped cream
– a tile decoration
Material used
– Silikomart cube mould X8
– Silicone mould lace flower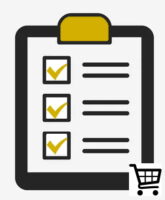 Ingrédients
Almond biscuit 
✔100g egg white
✔20g caster sugar
✔35g almond powder
✔35g sugar powder
✔10g flour
Pear mousse (the day before)
✔250g of pear puree
✔3 sheets of gelatine
✔200g of cold liquid cream 30% (or more)
✔20g icing sugar
For the tuile
✔12 g flour
✔25 g sugar
✔12 g melted butter
✔15 g egg white
For the whipped cream
✔100 g cold liquid cream (min 30% fat)
✔50 g mascarpone
✔15 g powdered sugar
For the icing
✔150g white chocolate + a few pistoles of milk chocolate
✔Chopped almonds
✔15 g neutral oil
Almond biscuit 
✔100g egg white
✔20g caster sugar
✔35g almond powder
✔35g sugar powder
✔10g flour
Beat the egg whites with an electric mixer and fold in the powdered sugar. Mix the powders together. Add a little of the stiffly beaten egg white to loosen the mixture. Stir. Add the rest and stir gently with a spatula. Pour onto a baking tray lined with baking paper.
Bake at 170°C for about ten minutes. Leave to cool and then cut out squares the size of your Silikomart mould.
Pear mousse (the day before)
✔250g of pear puree
✔3 sheets of gelatine
✔200g of cold liquid cream 30% (or more)
✔20g icing sugar
Soften the gelatine sheets in a bowl of cold water. Heat the pear puree in a saucepan. Remove from the heat and add the wrung-out and softened gelatine, stirring well. Set aside. Whip the cold cream with a mixer, adding the icing sugar. Add the pear puree, mix and pour into the silikomart cube mould (I only filled to 3/4). Place the almond biscuit squares on top. Place in the freezer overnight.
For the icing
✔150g white chocolate + a few pistoles of milk chocolate
✔Chopped almonds
✔15 g neutral oil
Melt the white chocolate, milk and neutral oil in a narrow container (that can hold the cube). Mix well. Add the chopped almonds. Mix again.
Turn out the frozen cubes. Place one or two spikes on each cube and dip into the icing. Scrape the edge of the cubes to remove excess chocolate.
For the tuile
✔12 g flour
✔25 g sugar
✔12 g melted butter
✔15 g egg white
Mix all the ingredients together. Line the tin, scrape off any excess with an angled spatula and place in the oven at 180°C. Be careful not to overcook them, as they cook quickly.
For the whipped cream
✔100 g cold liquid cream (min 30% fat)
✔50 g mascarpone
✔15 g powdered sugar
Poach the whipped cream onto each cube. Place in the fridge for 2 hours to defrost. Place the tuile on top, at the last moment, before serving, otherwise it will soften in the fridge.