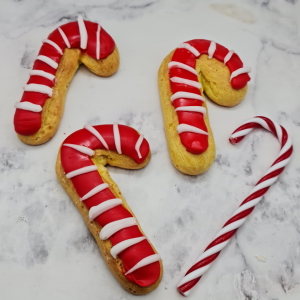 Barley sugar eclair made of
– choux pastry
– pastry cream
– pastry fondant
Material used
– Silikomart micro perforated silicone baking mat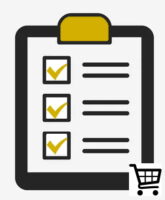 Ingredients
Choux pastry
✔60g water
✔60g milk
✔70g flour
✔55g butter
✔Salt
✔1 teaspoon sugar
✔2 or 3 eggs (depending on size)
Pastry cream
✔300ml milk
✔60g sugar
✔2 egg yolks
✔20g cornflour or cream powder
✔faculty: a little alcohol
+ Fondant pâtissier
For 6 barley sugar eclairs
Choux pastry
✔60g water
✔60g milk
✔70g flour
✔55g butter
✔Salt
✔1 teaspoon sugar
✔2 or 3 eggs (depending on their size)
In a saucepan heat the water, milk, butter, salt and sugar. Remove from the heat and add the flour all at once. Mix well to dry the dough for 2 to 3 minutes. Then add the beaten eggs gradually, mixing well between each egg. Poach the éclairs on a baking tray covered with a silpat micro perforated baking mat. Bake at 170°C for 35 to 40 minutes. Leave to cool.
Pastry cream
✔300ml milk
✔60g sugar
✔2 egg yolks
✔20g cornflour or cream powder
✔facilitating: a little alcohol
In a saucepan, heat the milk. In a bowl, mix the yolks, sugar and then the cornflour. Pour the hot milk over it. Return to the saucepan and heat without stopping to stir until the cream thickens. Finally add the alcohol. Mix well, strain and chill.
Make three small holes under each éclair and garnish with cream.
Heat the white fondant (35°C) in a bain-marie in two separate pans with a little red colouring in one and plain in the other. Drizzle over the éclairs and set aside in a cool place.