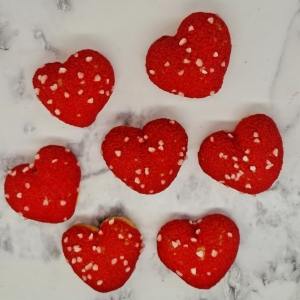 Heart chouquettes made of
– choux pastry
– pink cracker
– sugar pearls
Material used
– Silikomart micro perforated silicone baking mat
– piping bag
– plain tip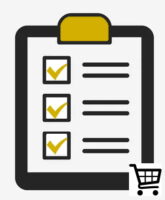 Ingredients
Crackers

50g butter

50g brown sugar

50g flour

pink colouring
+sugar pearls
Choux pastry

60g water

60g milk

70g flour

55g butter

salt

1 teaspoon of sugar

2 or 3 eggs (depending on size)
For about twenty chouquettes
Crackers

50g butter

50g brown sugar

50g flour

pink colouring
Mix all the ingredients, spread between two sheets of paper, place in the freezer for a few minutes and then cut out hearts with a cookie cutter.
Choux pastry

60g water

60g milk

70g flour

55g butter

salt

1 teaspoon of sugar

2 or 3 eggs (depending on their size)
Heat the water, milk, butter, salt and sugar in a pan. Remove from the heat and add the flour all at once. Mix well to dry the dough for 2 to 3 minutes. Then add the beaten eggs gradually, mixing well between each egg. Poach the choux on a baking tray covered with a silpat micro perforated baking mat. Place a cracker core on each puff. Sprinkle with sugar pearls.
Bake at 170°C for 35 to 40 minutes. Leave to cool.