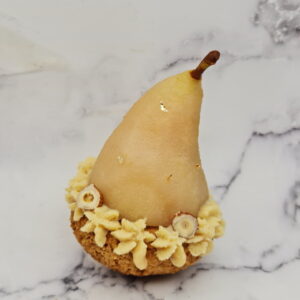 Pear and hazelnut choux composed of
– a cabbage,
– hazelnut cracker,
– hazelnut ganache,
– a pear in syrup,
– homemade praline.
Material used
– Silikomart micro-perforated baking mat
– piping bags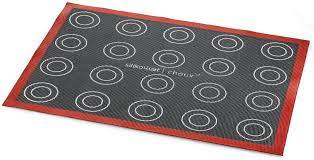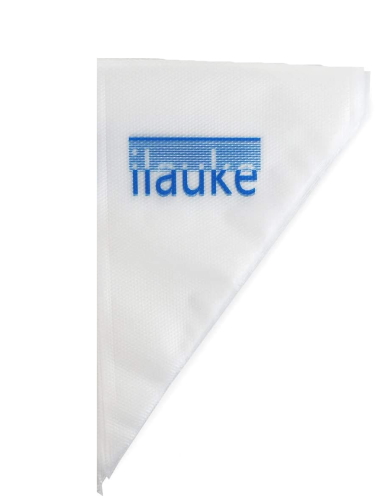 For 4 choux
Hazelnut praline

100g hazelnuts

50g powdered sugar
Place the hazelnuts on a baking tray and bake at 150°C for 15 minutes. In a saucepan, pour the caster sugar and make a caramel. Pour onto a sheet of baking paper and leave to cool. Place the hazelnuts, without their skins, and the caramel cut into pieces in the bowl of a blender and blend until you have a praline.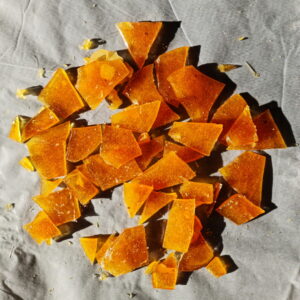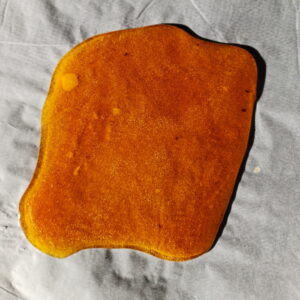 Hazelnut ganache

100g of liquid cream

100g white chocolate

50g hazelnut praline

100g of cold liquid cream
In a saucepan, pour and heat the 100g of liquid cream. In a bowl, pour the white chocolate and melt it a little in the microwave. Gradually pour the hot cream over the white chocolate while stirring to obtain a smooth mixture. Add the 50g of hazelnut praline and stir again. Finally, add the 100g of cold liquid cream. Mix, wrap and chill for at least 4 hours.
Pears in syrup

4 pears

Powdered sugar

Liquid vanilla
Peel the pears and remove the middle of the pear with a peeler. Cook the pears in a pan of water with caster sugar and liquid vanilla for 1.5 to 2 hours. Drain the pears, leave to cool slightly and then place in the fridge until assembly.
Hazelnut cracker

40g butter

20g flour

20g hazelnut powder

40g brown sugar
Mix all the ingredients, spread between two sheets of paper, place in the freezer for a few minutes and then cut out circles the size of your choux.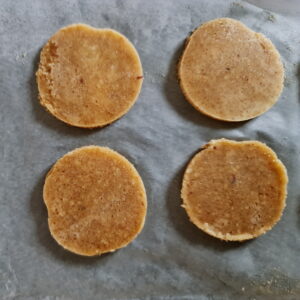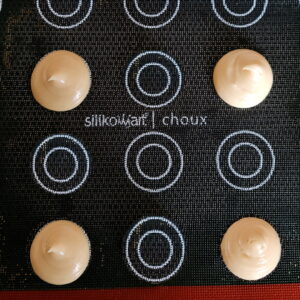 Choux pastry

60g water

60g milk

70g flour

55g butter

salt

1 teaspoon of sugar

2 or 3 eggs (depending on size)
Heat the water, milk, butter, salt and sugar in a saucepan.
Add the flour all at once and mix well to dry out the dough for 2 to 3 minutes.
Pour the mixture into a bowl and add the beaten eggs gradually, mixing well between each addition.
Poach the choux on a baking tray covered with a micro perforated baking mat, leaving some choux pastry. Bake at 180°C for 40 to 45 minutes (time may vary depending on the oven). Leave to cool on a wire rack. Make a hole under each choux.
Assembly
Take the hazelnut ganache from the fridge and beat it with an electric mixer. Fill a piping bag with it and fill the choux. I used about 50 g of ganache per choux. Cut out the base of the pear and insert homemade praline into the centre of the pear. Place the pear on the choux. Use the remaining hazelnut ganache to decorate your pear.
I added hazelnuts cut in half and small gold leaves.