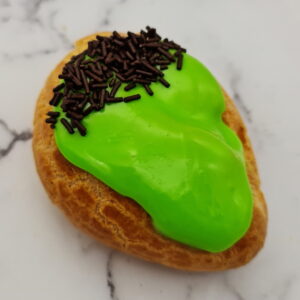 Salambo or acorn composed of
– choux pastry
– pastry cream
– fondant and chocolate vermicelli
Material used
– micro-perforated baking mat
– fluted sleeve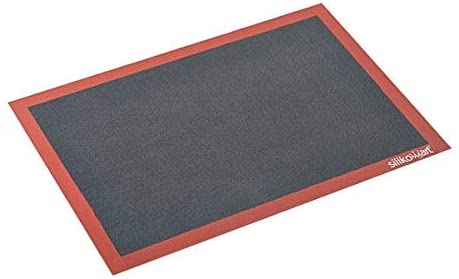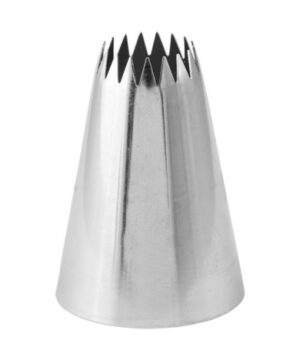 Acorn : Kirsch custard
Salambo : Rum custard
For the choux pastry
60g water
60g milk
70g flour
55g butter
salt
1 teaspoon of sugar
2 or 3 eggs (depending on their size)
Heat the water, milk, butter, salt and sugar in a pan. Remove from the heat and add the flour all at once. Mix well to dry the dough for 2 to 3 minutes. Then add the beaten eggs gradually, mixing well between each egg. Poach the choux on a baking tray covered with a silpat micro perforated cusson mat. Bake at 170°C for 35 to 40 minutes.
For the pastry cream
300ml milk
60g sugar
2 egg yolks
20g cornflour
Rum or Kirsch
Heat the milk in a saucepan. In a bowl, mix the yolks, sugar and cornflour. Pour the hot milk over it. Return to the saucepan and heat without stopping to stir until the cream thickens. If you wish, you can add a capful of rum or kirsch. Set aside in a cool place.
Make two holes under each choux. Garnish with pastry cream. Heat up some white fondant coloured green (35°C maximum). Coat the choux and sprinkle with chocolate vermicelli.