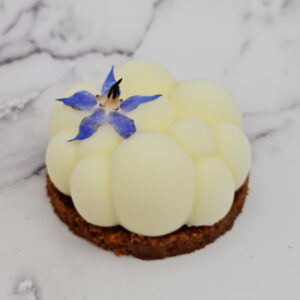 Lemon and speculos panna cotta
Materials used
– 8 cm diameter pastry ring for the specula biscuit
– Bollicine 3D silikomart mould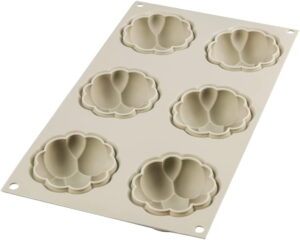 Panna cotta
50cl of cream
50g sugar
3 sheets of gelatine
1 lemon juice
Some borage flowers from @maison_sauge
Soften the gelatine in a large bowl of cold water
Heat the cream, lemon juice and sugar.
Remove from the heat and add the gelatine. Mix well, spread in the @silikomart Bollicine Silikomart 3D mould and place in the freezer for at least 4 hours.
Speculoos biscuit
60g speculoos biscuits
40g butter
Crush the speculoos biscuits in a bowl. Add the melted butter. Mix well.
Divide the biscuits into individual pastry circles by 5 mm and press down with the back of a spoon. Set aside in a cool place.
Assembly
Remove the panna cotta from the freezer. Place on the speculoos biscuit and decorate with a borage flower (from @maison_sauge)