Material used
Silicone mini Dot X6 Silikomart mould
Individual pastry ring for the speculoos biscuit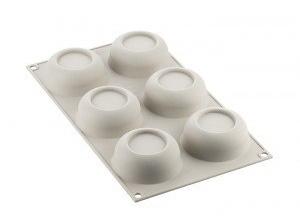 Panna cotta
50cl of cream
50g sugar
vanilla powder
3 sheets of gelatine (2g each)
Some house flowers
Soften the gelatine in a large bowl of cold water
Heat the cream, vanilla and sugar.
Remove from the heat and add the gelatine. Mix well, spread in the silikomart and place in the freezer for at least 4 hours.
Speculoos biscuit
60g speculoos biscuits
40g butter
Crush the speculoos biscuits in a bowl. Add the melted butter. Mix well. In individual pastry circles, spread the biscuits over 5 mm and press down with the back of a spoon. Set aside in a cool place.
Assembly
Remove the panna cotta from the freezer. Spray with white velvet spray. Place on the speculoos biscuit. Add raspberry coulis in the middle and decorate with a flower (from maison_sauge). 
For the raspberry coulis, mix 50g of fresh raspberries with a little powdered sugar. You can strain it through a fine sieve to remove the seeds.