Materials used
– Silikomart secret mould 100ml – 8 cavities
– Ancel 210 bloom gelatine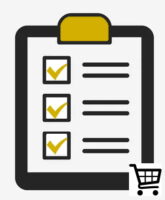 Ingredients
Panna cotta
✔50cl de crème liquide 30% de MG
✔50g de sucre en poudre
✔Vanille en poudre
✔3 feuilles de gélatine (6g)
Tuile
✔25g de sucre
✔12g de farine
✔12g de beurre fondu
✔25g de blanc d'œuf
✔Pink/purple colouring
Chocolate shell
✔250g strawberry inspired chocolate
✔45g white chocolate
✔20g neutral oil
Assembly
✔150g strawberry coulis
✔Food gold leaf
Serves 5
Panna cotta
✔50cl of cream
✔50g sugar
✔vanilla powder
✔3 sheets of gelatine (2g each)
Soften the gelatine in a large bowl of cold water. Heat the cream, vanilla and caster sugar in a saucepan.
Remove from the heat and add the gelatine, well wrung out. Mix well, spread into the Silikomart Secret mould and place in the freezer for at least 4 hours.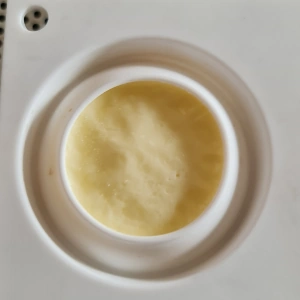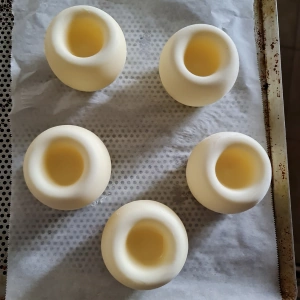 Chocolate shell
✔250g strawberry inspired chocolate
✔45g white chocolate
✔20g neutral oil
Melt the strawberry-inspired chocolate with the oil in a narrow container in the microwave, but one that will fit your frozen panna cotta. Mix well.
Melt the white chocolate in the microwave and fill with a piping bag. Cut off the end of the piping bag and make quick strokes on the surface of the strawberry-inspired chocolate.
Using a wooden skewer stuck in the middle of the panna cotta, dip it into the chocolate without covering it. Stop before you reach the top of the panna cotta. Then scrape the excess chocolate off the edge of the container. Repeat the operation for the other 4 desserts, adding white chocolate each time.
Mix 150g of strawberries with a little sugar (optional) and fill each hole, having first removed the wooden spike. Place in the fridge for at least 3 hours to defrost.
Tuile
✔25g sugar
✔12g flour
✔12g melted butter
✔25g egg white
✔Pink/purple colouring
Mix all the ingredients together. Fill the Pavoni honeycomb tin. Smooth with an angled spatula to remove excess. Bake in a hot oven at 170°C for 6/7 minutes (may vary depending on your oven). As soon as you remove from the oven, remove from the mould. Be careful, they harden very quickly and become brittle. Handle with care.
Place the tiles at the last moment, just before serving, otherwise they will soften if placed in the fridge. I decorated them with a little edible gold leaf.