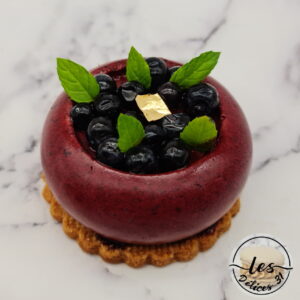 Blueberry and meringue entremet composed of
– a sweet pastry biscuit,
– a blueberry mousse,
– a meringue insert,
– blueberries and mint leaves.
Material used
– micro-perforated baking mat
– silikomart mini-dot X6 mould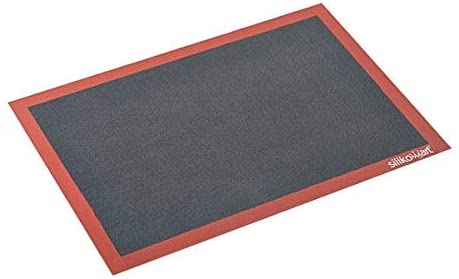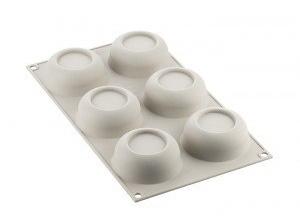 For 4 to 5 desserts
Meringue
✔50g egg whites
✔50g caster sugar
✔50g icing sugar
Whisk the egg whites until stiff, add the caster sugar.
Sift in the icing sugar and mix gently. Line the silikomart mini sphere mould. Bake for 1h15 at 100°C. Turn off the oven and leave to cool in the oven. Turn out carefully as the meringue is fragile.
Blueberry mousse
✔170g mixed blueberries
✔30g caster sugar
✔4g gelatine
✔100g of liquid cream 30% MG
Hydrate the gelatine in the cold water. Heat the blueberry puree with the caster sugar in a saucepan. Remove from the heat and add the gelatine. Leave to cool a little. Whip the cold cream with an electric mixer. Add the previous mixture and stir gently with a maryse. Pour half of the mixture into the silikomart mini dot mould. Add the meringue, fill with the remaining mousse and freeze overnight.
Sweet pastry
✔100 g flour
✔40g icing sugar
✔8g almond powder
✔60g butter
✔1 egg yolk
✔1 pinch of salt
Mix all the ingredients together, make a ball, roll out and then place in a cool place for 1 hour. Roll out the dough between two sheets of baking paper and cut out with a cookie cutter. Bake at 180°C between two sheets of micro perforated paper. Watch the cooking and take them out as soon as they colour. Leave to cool.
Assembly
Place the still frozen blueberry mousses on the sweet pastry biscuit. Place in the freezer until defrosted. Decorate with blueberries and mint leaves. You can sprinkle your blueberries with sugar before placing them on the mousse if they are not very sweet.