Material used
– Silicone mold for the entremet
– Silicone spatula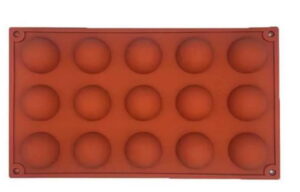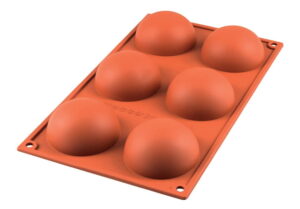 The meringue
65g of egg whites
65g of powdered sugar
65g powdered sugar
Beat the egg whites until stiff and add the powdered sugar. Sift the powdered sugar and mix gently.
Poach the meringue in a half-sphere mold and then poach disks slightly smaller in diameter than your mold on a baking sheet covered with baking paper.
Bake for 1 hour and 15 minutes at 100°C. Turn off the oven and let cool in the oven.
The vanilla mousse
6 g gelatin
2 egg yolks
20 g sugar
80 g whole milk
1 vanilla pod from Bourbon_noire
Liquid vanilla
180 g of cold liquid cream 30% minimum fat content
Soften the gelatin leaves in a bowl of cold water. Pour the milk, liquid vanilla and vanilla bean, cut in half and scraped off, into a saucepan. Heat the vanilla pod. In a bowl, mix the powdered sugar and egg yolks. Pour the hot milk over the mixture and return it to the pan. Cook without exceeding 82/83°C. Remove from the heat and add the gelatine. Set aside.
Whip the cold cream with an electric mixer. Incorporate the custard and stir gently with a maryse.
Assembly
Fill the silikomart mold with 6 half-spheres of vanilla mousse. Add the meringue insert. Pour a little more mousse and finish with the meringue disk. Place in freezer for at least 4 hours. Unmould and cover with chopped almonds and hazelnuts. Place in the refrigerator until ready to eat.
You can get a 10% discount with the code « LESDELICES31 » for the purchase of your vanilla on the bourbon_noire website.