Material used
Silikomart mould – cubes – 8 cavities
Pear cutter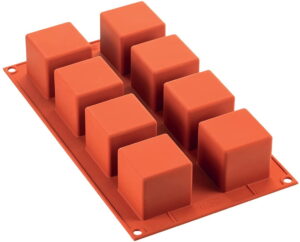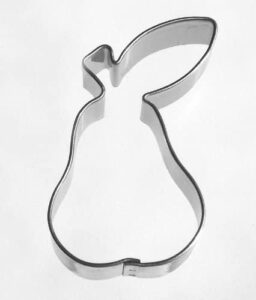 For the joconde biscuit (more than enough)
75 g almond powder
75 g icing sugar
20 g flour
2 whole eggs
2 egg whites
20 g sugar
Mix the almond powder, icing sugar and flour in a bowl. Add the eggs one by one and mix well between each addition with a whisk. In another bowl, beat the egg whites until stiff, gradually adding the caster sugar. Add this mixture to the previous one, stirring gently, then pour onto a baking tray covered with baking paper. Bake at 210°C for 10 minutes.
For the pear mousse
150g pear purée (pears in syrup)
120g of liquid cream
2 sheets of gelatine, 2g each
Place the gelatine in a bowl of cold water. Heat the pear puree in a saucepan and add the drained gelatine off the heat. Mix well and set aside. Whip the cream with the icing sugar. Stir the whipped cream into the pear purée.
Assembly
Place half of the pear mousse in your mould. Place the pear insert. Again, a little bit of mousse and then the joconde biscuit cut to the dimensions of your mould. Place in the freezer.
Sweet pastry
70g flour
10g icing sugar
40g butter
1 egg yolk
1 pinch of salt
Mix all the ingredients together, wrap and chill in the fridge. Spread the dough between two sheets of baking paper and cut out squares and small pears with a cookie cutter. Bake at 180°C. Keep an eye on them and take them out as soon as they colour.
For the glaze
100g glucose
150g sugar
50g water
100g white chocolate
60g unsweetened condensed milk or liquid cream with a minimum of 30% fat content
4 sheets of gelatine
Yellow colouring
Heat the sugar, glucose and water. Remove from the heat and add the gelatine, previously softened in a bowl of cold water and squeezed dry. Pour over the melted white chocolate. Add the unsweetened condensed milk, the colouring and blend the mixture with a hand blender. Use at 35°C.
Spray with a little brown spray and decorate with a small tail made of black sugar paste.