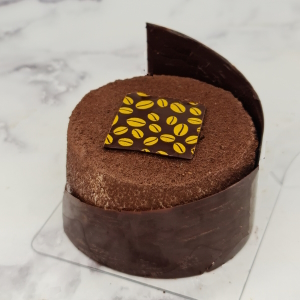 Tiramisu entremet made of
– spoon biscuits
– mascarpone cream
– brown velvet spray
Material used
– Silikomart mould cylinder 6 cavities
– Silikomart Florentine mould
– Ancel 210 Bloom gelatine (gold quality)
– A brush
– Brown velvet spray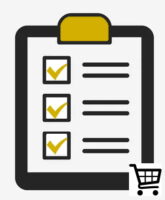 Ingredients
For the spoon biscuits
✔2 eggs
✔55 g sugar
✔25 g flour
✔25 g cornflour
Mascarpone cream
✔250g mascarpone
✔3 yellow
✔3 white
✔80g caster sugar
✔20g milk
✔2 x 2g gelatine leaves
Assembly
✔A double espresso
For 6 desserts 
For the sponge cake
✔2 eggs
✔55 g sugar
✔25 g flour
✔25 g cornflour
Separate the whites from the yolks. Beat the egg whites with an electric mixer, adding the sugar gradually. Then add the egg yolks. Mix gently with a spatula. Sift in the flour and cornflour. Mix again. Preheat your oven to 210+C. Fill the Silikomart moulds (I used the Silikomart tart ring mould and the Silikomart Florentine shape mould with 8 cavities) and put them in the oven at 180°C for 8 to 10 minutes. Leave the biscuits to cool.
Mascarpone cream
✔250g mascarpone
✔3 yellow
✔3 white
✔80g caster sugar
✔20g milk
✔2 x 2g gelatine leaves
Place the gelatine sheets in a large bowl of cold water for about ten minutes.
In a small bowl pour the milk and heat it in the microwave. Add the softened and wrung-out gelatine. Mix well. Separate the whites from the yolks. Beat the yolks with the mascarpone and half the sugar (40g). Add the milk and gelatine. Mix and set aside. Beat the egg whites with the remaining 40g sugar. Gently mix the egg whites with the mascarpone cream.
Assembly
✔A double espresso
Soak the top of your biscuits, with a brush, with coffee.
Start by pouring a little cream into each cavity of the 6-cylinder Silikomart mould, working your way up the sides. Place the smallest coffee-soaked biscuit, top with cream and then the second coffee-soaked biscuit.
Place in the freezer overnight. The next day, turn out your desserts and apply the brown velvet spray immediately.