Material used
– Silikomart half egg mould
– Silikomart half egg mould 18 cavities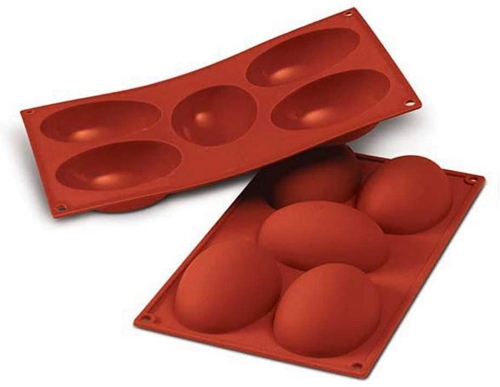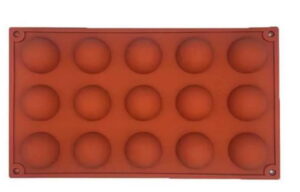 For 3 fried eggs
For the chocolate shell
150g milk chocolate
Silikomart half egg mould
Melt the chocolate and fill the half-sphere mould. Place in a cool place and carefully remove from the mould when the chocolate has hardened.
For the mango jelly
50g of mangoes
1/2 sheet of gelatine (1g)
Soften the gelatine. Heat the mango puree, add the gelatine, squeezed out of the heat, then fill the moulds with half-spheres. Place in the freezer for at least 2 hours.
For the panna cotta
35cl of cream
50g caster sugar
2 sheets of gelatine (2g each)
Heat the cream with the sugar. Remove from the heat and add the gelatine. Stir and garnish the chocolate half-eggs when the cream has completely cooled. Place in a cool place.
Place the mango jelly in the centre of the fried egg.