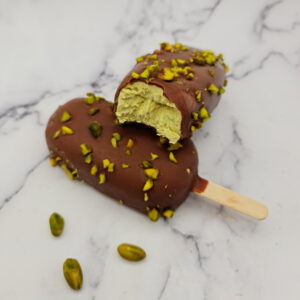 Magnum pistachio, milk chocolate
Material used
– Silikomart magnum mould
– Angled spatula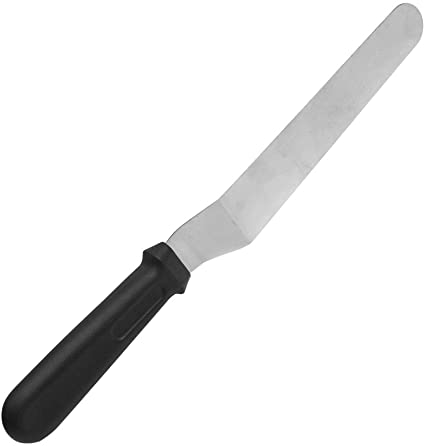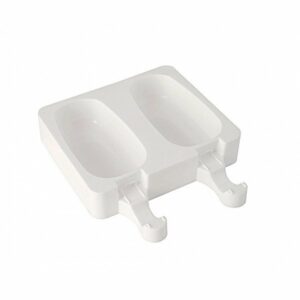 For 4 magnums
For the pistachio ice cream
✔50g pistachio praline
✔50g sweetened condensed milk
✔200g of very cold liquid cream 30%MG minimum
✔50g of mascarpone
✔½ sheet of gelatine (1g)
✔Green colouring
– Melt the gelatine in a little hot milk: First soften the gelatine in a bowl of cold water. Pour 2 tablespoons of milk into another small bowl. Heat the milk in the microwave and add the wrung-out and softened gelatine.  Mix well and set aside. 
– Mix the condensed milk and the pistachio praline in a bowl. Add the gelatine.


– In another bowl, whip the cold cream with an electric mixer. Add the previous mixture and mix gently with a spatula so that the whipped cream does not fall. If you wish, you can add a drop of green colouring.
– Fill the magnum mould, not forgetting to add a wooden stick, smooth out any excess with an angled spatula and place in the freezer for at least 3 hours.
Milk chocolate glaze
✔250g milk chocolate
✔20g neutral oil
✔Chopped unsalted pistachios
– Melt the milk chocolate with the neutral oil in a small container that can still hold the magnum.
– Prepare the chopped pistachios.
– When the chocolate is below 35°C, dip the frozen magnum into it.
– Immediately sprinkle the chopped pistachios on top before the chocolate hardens.
– Place in the freezer until ready to eat.