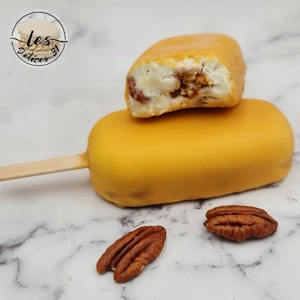 Magnum vanilla pecan
– vanilla ice cream
– homemade caramel
– caramelised pecans
– Dulcey chocolate icing
Material used
– X2 magnum silikomart mould
– Angled spatula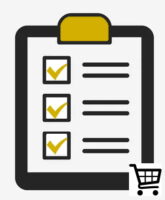 Ingredients
For the homemade caramel
✔ 160g caster sugar
✔ 200g heated liquid cream
✔ 50g semi-salted butter
For the vanilla ice cream

90g sweetened condensed milk

260g very cold liquid cream 30%MG minimum

1 sachet vanilla sugar

Vanilla powder

2g Stabglaces
Dulcey chocolate icing
✔250g Dulcey chocolate
✔25g neutral oil
Assembly
✔ Caramelised pecans
For the homemade caramel
✔160g caster sugar
✔200g heated single cream
✔50g semi-salted butter
Melt the sugar in a saucepan. When it has a nice amber colour, remove from the heat and add the heated cream. Mix well and return to the heat to melt all the caramel. Remove from the heat and add the butter. Leave to cool, then fill a piping bag with the mixture.
For the vanilla ice cream
✔90g sweetened condensed milk
✔260g very cold liquid cream 30%MG minimum
✔1 sachet vanilla sugar
✔Vanilla powder
✔2g Stabglaces
In a small bowl, mix one sachet of vanilla sugar with the Stabglaces. In a salad bowl, pour the liquid cream, the vanilla powder, the vanilla sugar mixed with the Stabglaces. Mix well and chill for at least 15 minutes. Whip the cold cream with an electric mixer. Gradually add the sweetened condensed milk.
Stabglaces is an emulsifier for making ice cream. It stabilises the aqueous structure of the mixture, preventing the formation of unpleasant ice crystals.
Assembly
Add a little caster sugar to a pan and melt until it is a lovely golden colour. Add the pecans and coat well in the caramel. Pour onto a sheet of baking paper or a silicone mat, spacing them out to prevent them sticking together. Leave to cool well.
Fill the magnum mould halfway with the cream. Add the homemade caramel and caramelised pecans. Top with cream. Don't forget to add a wooden stick, smooth with an angled spatula to remove any excess and place in the freezer for at least 3 hours.
Dulcey chocolate icing
✔250g Dulcey chocolate
✔25g neutral oil
Melt the Dulcey chocolate with the neutral oil in a narrow container that can still hold the magnum.
What is Dulcey? Blond chocolate, otherwise known as Dulcey chocolate, is made from caramelised white chocolate.
–> So here I used white chocolate that I placed in an ovenproof dish with a little neutral oil and I baked it at 120°C, stirring it regularly until it coloured.
Unmould your magnums. When the chocolate is below 35°C, dip the frozen magnum into the chocolate.
Return to the freezer until ready to eat.