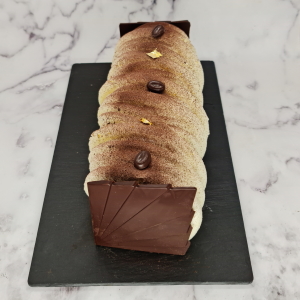 Tiramisu log made of
– homemade sponge cake,
– mascarpone cream,
– white and brown velvet spray,
– dark chocolate log ends
Material used
– Lana Silikomart log mould
– Pastry bag
– Plain piping bag
– Ancel 210 bloom gelatine
– Log end mould (meilleurduchef)
– White and brown velvet spray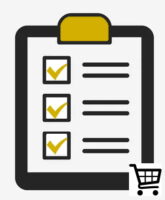 Ingredients
Spoon biscuits
✔3 egg whites
✔3 egg yolks
✔90g caster sugar
✔90g flour
+Icing sugar
Baking
180°C
8 to 10 minutes
Mascarpone cream
✔250g mascarpone
✔3 yellow
✔3 white
✔80g caster sugar
✔20g milk
✔2 x 2g gelatine leaves
Assembly
Expresso
White velvet spray
Brown velvet spray
For 8 to 10 people
Spoon biscuits
✔3 egg whites
✔3 egg yolks
✔90g caster sugar
✔90g flour
icing sugar
Separate the whites from the yolks. Beat the egg whites with an electric mixer, adding the sugar gradually. Then add the egg yolks. Mix gently with a spatula. Sift in the flour. Mix again. Fill a piping bag with a plain tip. Poach the sponge biscuits on a sheet of baking paper and sprinkle with icing sugar. Bake at 180°C for 8 to 10 minutes. Leave the biscuit to cool and cut to the size of your mould.
Mascarpone cream
✔250g mascarpone
✔3 yellow
✔3 white
✔80g caster sugar
✔20g milk
✔2 x 2g gelatine leaves
Place the gelatine sheets in a large bowl of cold water for about ten minutes.
In a small bowl pour the milk and heat it in the microwave. Add the softened and wrung-out gelatine. Mix well.
Separate the whites from the yolks. Beat the yolks with the mascarpone and half the sugar (40g). Add the milk and gelatine. Mix and set aside.
Beat the egg whites with the remaining 40g sugar. Gently mix the egg whites with the mascarpone cream.
Assembly
A double espresso
Soak the top of your biscuits with coffee using a brush.
Pour the cream into the mould. Using a spoon, spread the cream evenly, bringing it up to the edges. Place your first biscuit on top, soak the other side of the biscuit. Top with the cream, working your way up the edges. Place your second biscuit on top and soak it again in coffee. Top with cream and finish with your last biscuit. Place in the freezer overnight. 
The next day, turn out your log. 
Apply the white velvet spray and then the brown velvet spray. I decorated with chocolate coffee beans and small gold leaves. Finally, I placed two log tips made of dark chocolate.