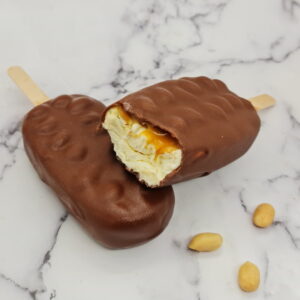 Snickers magnum made of
– ice cream,
– caramel,
– peanuts,
– milk chocolate icing.
‌
Material used
– Silikomart magnum mould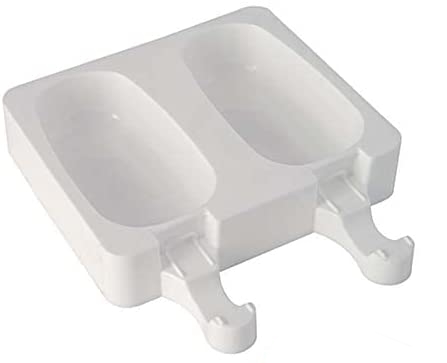 Ingredients for 5 magnums
For the caramel
80g caster sugar
100g heated cream
30g of semi-salted butter
To make a homemade caramel: Melt the sugar in a saucepan. When it has a nice amber colour add the heated cream off the heat. Mix well and put back on the heat to melt all the caramel. Remove from the heat and add the butter. Cover and place in a cool place.
For the ice cream
120g sweetened condensed milk
50g of liquid cream
150g of very cold liquid cream
Unsalted peanuts
Heat the sweetened condensed milk in a saucepan until it thickens, stirring continuously to prevent it from sticking. Add 50g of liquid cream. Heat for 30 seconds in the microwave if it has cooled down completely. Mix and set aside.
Whip up the 150g of cold liquid cream by adding the previous mixture.
Fill the silikomart magnum mould and place in the freezer for 1 hour
Add the caramel and peanuts and put back in the freezer for at least 3 hours.
For the icing
200g milk chocolate
15g neutral oil
Make the milk chocolate icing by melting the chocolate (200g) with a little neutral oil in the microwave. Place the chocolate in a narrow, high container that can hold the magnum. When the chocolate is around 35°C, dip the magnums in the chocolate and put them back in the freezer until you are ready to eat.