Materials used
– square or rectangular pastry frames
– kitchen thermometer
– Unleavened sheets of paper with stripes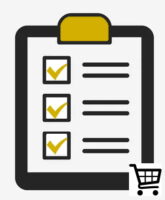 Ingredients
Dried fruit 
✔200g almonds
✔100g hazelnuts
✔80g pistachios
Baking: 
150°C – 15min
Nougat
✔380g sugar
✔125g water
✔85g glucose
✔290g lavender honey
✔125g Cocoa butter
✔60g egg whites
✔20g sugar
✔ striped unleavened leaves
✔Dried fruit
Dried fruit 
✔200g almonds
✔100g hazelnuts
✔80g pistachios
Roast the almonds, hazelnuts and pistachios in a 150°C oven on a baking tray for 15 minutes.
Rub the hazelnuts to remove their skins.
Prepare your pastry frames and cut your unleavened leaves to the right size (2 leaves per frame: 1 for the bottom and 1 for the top).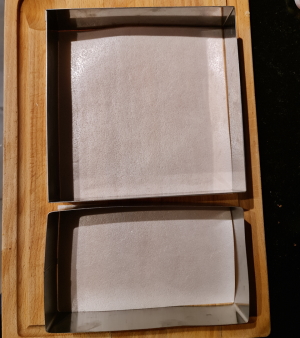 Nougat

380g sugar

125g water

85g glucose

290g honey

125g cocoa butter

60g egg whites

20g sugar

striped unleavened leaves

Dried fruit
Heat the honey in a saucepan. Do not exceed 121°C.
In a second pan, heat the sugar (380g), glucose and water to 152°C.
In a third saucepan, melt the cocoa butter powder in a bain-marie.
Pour the egg whites into the bowl of the mixer, then gradually add the sugar (20g) as they start to rise.
Pour the honey, which has come to the temperature of the inner wall, into the mixer, which is running at low speed, avoiding the whisk. Mix.
Then pour the warmed sugar over the egg white and honey mixture. Mix.
Remove the whisk from the mixer and place the leaf attachment.
Add your melted cocoa butter to the mixture.
When the mixture is well blended, finally add the dried fruit.
Place a sheet of unleavened baking paper in a baking frame (with ridges underneath), pour in the mixture, smooth and press down to an even thickness. Place a second sheet of unleavened bread (ridges upwards), press down again and leave to harden at room temperature overnight.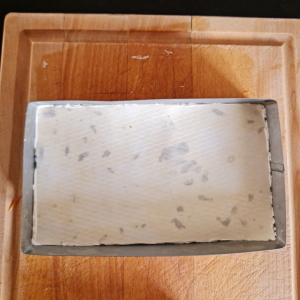 The next day, remove the pastry frames and cut out your nougat. You can wrap it up and give it as a gift for the holidays or enjoy it with your family.  It can be stored for three months outside the fridge.
Recipe taken from meilleurduchef.com