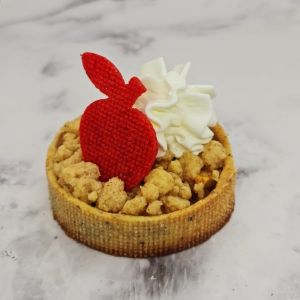 Apple crumble tart made with
– hazelnut sweet pastry,
– diced apples,
– crumble.
Material used
– Micro perforated silicone baking mat
– Micro-perforated strip (optional)
– Silikomart tart ring Klassik mould 70mm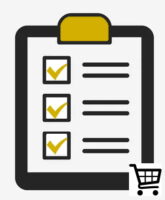 Ingredients
Hazelnut sweet pastry
✔70 g soft butter
✔80 g flour
✔50 g hazelnut powder
✔45 g icing sugar
✔1 pinch of salt
✔1 egg yolk
Apples
✔2 golden
✔10g water
✔20g caster sugar
✔Cinnamon powder
Crumble
✔140g flour
✔115g brown sugar
✔100g butter
✔Cinnamon powder
For 5 tarts
Sweetened hazelnut pastry
✔80g flour
✔45g sugar
✔50g hazelnut powder
✔70g butter
✔1 egg yolk
Mix all the ingredients together, film and chill for 1 hour. Roll out the pastry with a rolling pin between two sheets of greaseproof paper , line your tartlet tins then place in the freezer.
Topping
✔2 apples
✔30g caster sugar
✔10g water
✔cinnamon powder
Cut the apples into small pieces then put them in a pan with the caster sugar, water and a little cinnamon. Cook for about 5 minutes. Set aside.
Crumble
✔70g flour
✔55g brown sugar
✔50g butter
✔1 tsp cinnamon powder
Mix all the ingredients together.
Divide the apples (without the juice) between the tarts and add crumble on top. Bake at 170°C for about 20-25 minutes.
With the remaining sweet dough, I added a little colouring and cut out apples with a cookie cutter, which I baked on a baking tray between two micro-perforated baking mats for 8-10 minutes.
Serve with a little whipped cream or a scoop of vanilla ice cream.