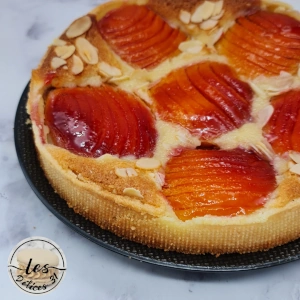 Bourdaloue tart with peaches
– sweet pastry
– almond cream
– peaches in syrup
– flaked almonds
– Topping
Material used
– Silikomart tart ring 190mm
– Micro-perforated silicone baking mat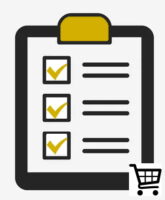 Ingredients
Peaches in syrup

3 peaches

Water

150g caster sugar

Liquid vanilla
Sweet pastry

130g flour

40g icing sugar

60g butter

1 egg yolk

1 pinch of salt
Almond cream

40g softened butter

40g sugar

40g almond powder

40g egg
Syrup

Peach cooking juice
Serves 6
Peaches in syrup

3 yellow peaches

Water

150g caster sugar

Liquid vanilla
Take 3 large yellow peaches and cut them in half without peeling. Cook in a large saucepan with water, caster sugar and liquid vanilla for about 15 minutes. Cooking time depends on the ripeness of your peaches. Insert the tip of a knife to check for doneness.
Remove the peaches from the pan and keep the cooking juices to drizzle over the peaches after the tart is cooked. I left the peach juices to heat through so that they reduced. Gently peel your peaches and leave them on a paper towel.
Sweet pastry

130g flour

40g icing sugar

8g almond powder

60g butter

1 egg yolk

1 pinch of salt
Mix all the ingredients together, form into a ball, wrap in cling film and chill in the fridge for 1 hour.
Roll out the dough thinly between 2 sheets of greaseproof paper. Cut into the shape of your tart tin. Place in the freezer for 10 minutes. Prick with a fork.
Almond cream

40g softened butter

40g sugar

40g almond powder

40g egg
Cream the butter in a bowl. Add the sugar, almond powder and egg. Mix all the ingredients together and chill the cream.
Top the tart with the almond cream.
Place the well-drained peaches on top (you can cut each peach into strips). Add the flaked almonds. Bake for 45 minutes at 160°C.
You can use a pastry brush to cover the peaches with the cooking juices for extra shine.
I served this tart with a scoop of vanilla ice cream.