Material used
Silikomart mold – Petit Amour mini pie kit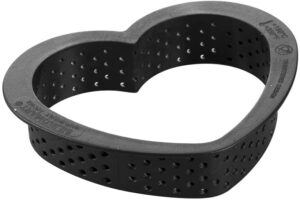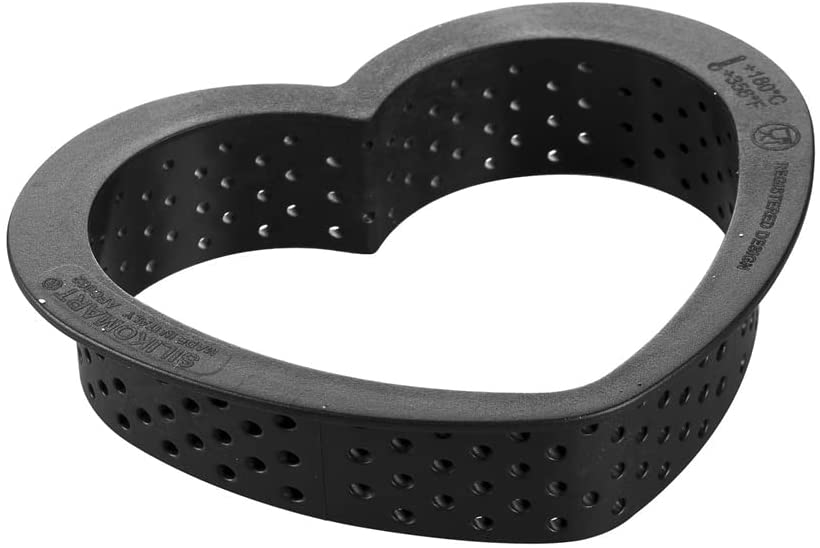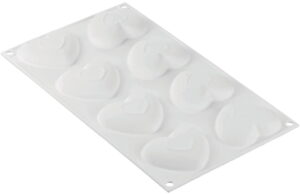 Hazelnut and chocolate mousse (the day before)
30g of liquid cream
1 sheet of gelatin (2g)
30g of hazelnut praline
30g of milk chocolate
100g of cold liquid cream 30%.
Heat the cream. Remove from the heat and add the softened gelatine. Pour over the melted chocolate and praline and mix well. Set aside. Whip the cold liquid cream with a mixer and gently incorporate the previous mixture. Fill the mold @silikomart Kit 6 mini tart petit amour and place in the freezer.
Dark chocolate icing (the day before)
50g of water
90g sugar
90g glucose
60g sweetened condensed milk
90g dark chocolate
3 sheets of gelatin (2g each)
In a saucepan, heat the water, sugar and glucose to a rolling boil (103°C). Remove from the heat and add the gelatin, wrung out and softened. Pour over the melted chocolate. Mix. Add the condensed milk and mix. Filter and keep in a cool place.
Sweetened cocoa paste
70 g of soft butter
130 g of flour
10g of cocoa powder
45 g of powdered sugar
1 pinch of salt
1 egg yolk
Mix all the ingredients. Roll out the dough thinly between 2 sheets of parchment paper and put it in the refrigerator for 30 minutes. Make heart-shaped tarts and prick the dough. Place in the freezer for 10 minutes. Bake the tartlets at 170° for 12 minutes.
Hazelnut cream
40 g soft butter
40 g powdered sugar
40 g roasted hazelnut paste – Le pralin (@lamaisondelanoisette)
40 g of egg
Mix the butter, powdered sugar, hazelnut powder and egg. Pour into each tartlet and bake at 160°C for 10/15 minutes.
Chocolate and praline ganache
60 g milk chocolate
60 ml of liquid cream
30 g hazelnut praline
Heat the cream and pour it over the milk chocolate and praline. Mix well.
Pour into the tarts and smooth. Let cool and place in a cool place.
The next day, use the frosting at 33-35°C on the frozen entremets. Place them on the tartlets. Decorate with a few chopped roasted hazelnuts (@lamaisondelanoisette)
around the heart and place a gold leaf on top.