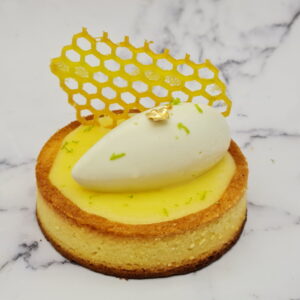 Lemon and verbena tartlet composed of
– sweet pastry,
– a lemon cream,
– verbena and white chocolate  mousse,
– a lemon tuile.
Material used
– Pavoni honeycomb mould
– Micro perforated baking mat
– Perforated silikomart tartlet rings
– Angled spatula
– Silikomart quenelle mould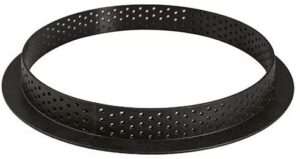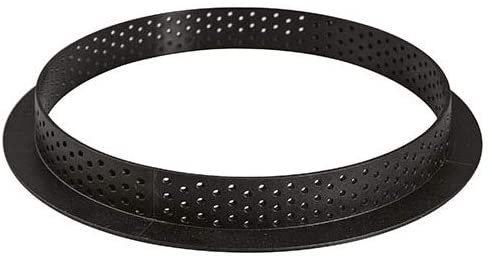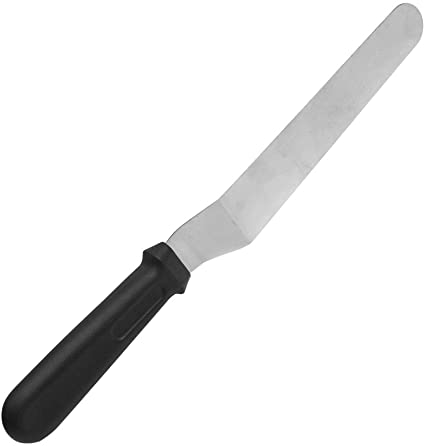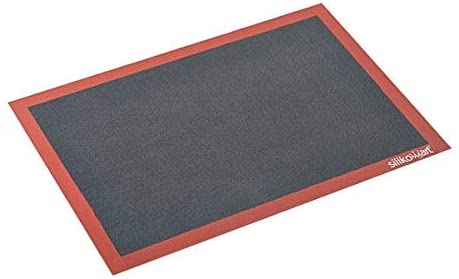 For 4 tarts
Verbena and white chocolate mousse quenelle
✔30 g full cream
✔a few verbena leaves (about ten)
✔30 g white chocolate
✔2 g gelatine
✔80 g whipping cream
✔10g icing sugar
Place the gelatine leaf in a bowl of cold water. In a saucepan, heat the 30 g of liquid cream with the verbena leaves. Turn off the heat, cover the pan and leave to infuse for 15 minutes. Return the mixture to the heat and then, off the heat, add the gelatine (remove the verbena leaves beforehand). Pour over the melted white chocolate, mix and set aside. Whip the cold cream with an electric mixer and add the icing sugar. Pour over the previous mixture and stir gently. Pour into the quenelle mould and place in the freezer.
Sweet pastry
✔70 g soft butter
✔130 g flour
✔45 g icing sugar
✔15 g almond powder
✔1 pinch of salt
✔1 egg yolk
Mix all the ingredients together. Roll out the dough thinly between 2 sheets of baking paper and put it in the fridge for 30 minutes. Line the circles and prick the pastry with a fork. Bake the tartlets at 165° for 15-20 minutes.
Lemon cream
✔60g lemon juice
✔75g sugar
✔75g egg
✔120g butter
Heat the eggs, sugar and lemon juice in a saucepan. Cook until 85°C without stopping to stir. Remove from the heat and add the gelatine, previously wrung out and softened in cold water. When the mixture has dropped to 60°C, add the cold butter cut into pieces. Mix and place in the refrigerator.
Lemon tuile
✔25g sugar
✔12g flour
✔12g melted butter
✔25g egg white
✔Lemon zest
✔Yellow dye
Mix all the ingredients together. Fill the Pavoni honeycomb mould. Smooth with an angled spatula to remove excess. Bake in a hot oven at 170°C for 6 minutes (may vary depending on your oven). As soon as you remove from the oven, remove from the mould. Be careful, they harden very quickly and become brittle. Handle with care.
Assembly
Fill the tartlet bases with the lemon cream. Smooth out to the edge with an angled spatula. Place the frozen verbena mousse quenelle on top. Apply a lime peel and decorate the quenelle with a small piece of edible gold leaf.
Place in the refrigerator until ready to eat. Place the lemon tuile on top at the last moment before serving, as they will soften if placed in the fridge.