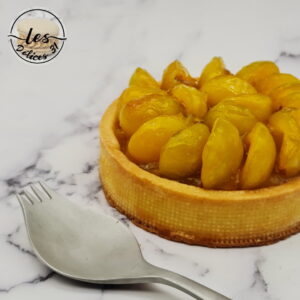 Mirabelle plum tartlet made with
– sweet pastry,
– an almond cream,
– a compote of mirabelle plums.
– of mirabelle plums.
Material used
– Micro perforated baking mat
– Perforated silikomart tartlet rings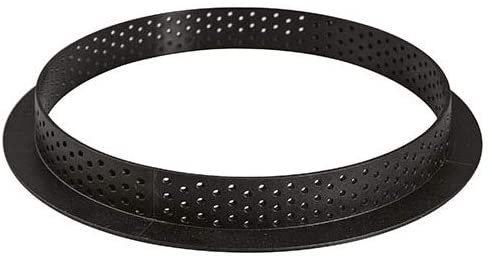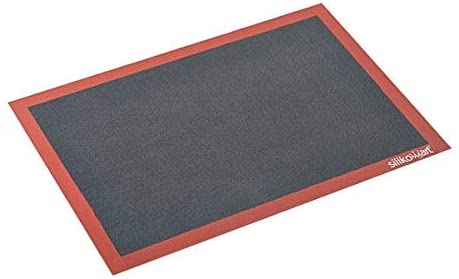 For 4 tarts
Sweet pastry
70 g soft butter
130 g flour
45 g icing sugar
1 pinch of salt
1 egg yolk
Mix all the ingredients together, roll out and chill. Roll out the dough thinly between 2 sheets of baking paper. Line the circles and prick the dough with a fork. Place in the freezer while you preheat your oven. Bake the tart shells at 170° for about 10 minutes.
Almond cream
30g of butter
30g almond powder
30g caster sugar
30g egg
Mix the butter with the sugar. Add the almond powder and the eggs. Pour into the bottom of the tarts and bake for about ten minutes. Leave to cool.
Mirabelle plum compote
130g mirabelle plums
20g powdered sugar
2g pectin NH
In a saucepan, heat the mirabelles over a low heat until they have reduced to a compote, stirring from time to time with a spatula. Add the pectin + 20 g sugar mixture and bring to the boil for 1 minute, stirring with a whisk. Remove from heat and set aside.
Assembly
Place the mirabelle compote on the tartlets. Cut the mirabelles in half and remove the stones. Place them in a circle on your tartlets. You can coat them with a neutral glaze to give them more shine. Set aside in the fridge until ready to eat.
For those who are curious, I served it with a Georgette made in Saint-Lizier in the Ariège, which is a combination of fork and spoon.