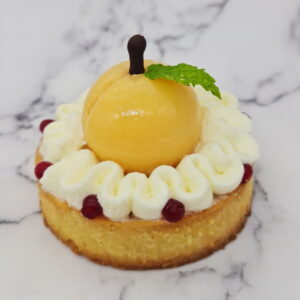 Peach tartlet made of
– sweet pastry,
– almond cream,
– pieces of peach,
– peach cream,
– mascarpone whipped cream,
– raspberry balls.
Material used
– Silikomart perforated tart moulds
– Silikomart mini pearl mould
– Silikomart mould x15 mini truffles
– Micro-perforated baking mat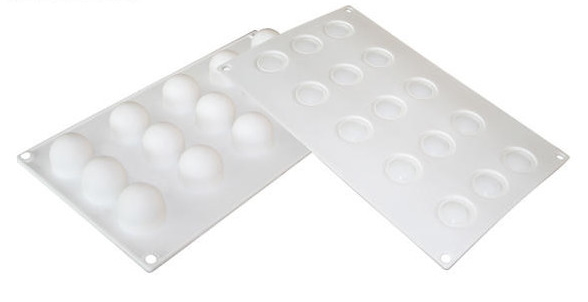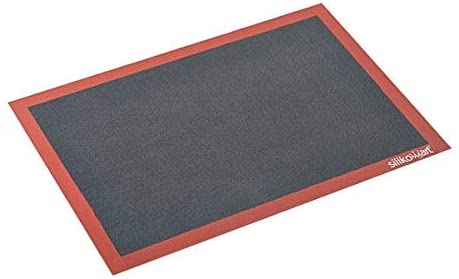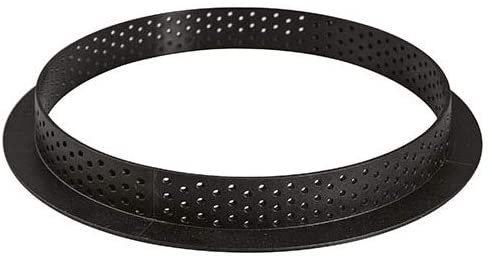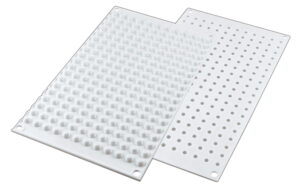 For 4 or 5 tartlets
Peach cream
100g peach puree
10g sugar
1 egg yolk
1 sheet of gelatine
Hydrate the gelatine in cold water.
Heat the peach puree in a saucepan.
Mix the egg yolk and sugar in a bowl without blanching and add the boiling puree to the mixture.
Return to the heat and thicken like a custard without exceeding 82/83°C.
Remove from the heat and add the gelatine. Fill the silikomart mini truffle mould. Place in the freezer.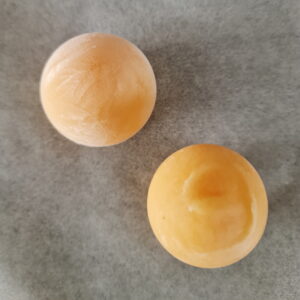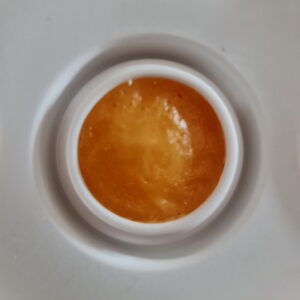 Raspberry balls
50g raspberry puree
10g sugar
10g water
1g gelatine
– Soften the gelatine in a bowl of cold water.
– Pour the raspberry puree, water and sugar into a saucepan and heat without boiling.
– Remove from the heat and strain through a sieve to remove all the seeds from the raspberries, then add the wrung-out gelatine.
-Leave to cool and then pour into the silikomart mini ball mould. Place in the freezer.
Sweet pastry
70 g soft butter
130 g flour
45 g icing sugar
1 pinch of salt
1 egg yolk
– Mix all the ingredients together. Roll out the dough thinly between 2 sheets of baking paper and put it in the fridge for 30 minutes.
– Prick the pastry with a fork.
– Bake the tart shells at 160°/170°C for 10 to 12 minutes.
Almond cream
20g butter
20g egg
20g sugar
20g almond powder
– Mix the butter with the sugar.
– Add the almond powder and the egg.
– Pour into the bottom of the tarts and bake for about ten minutes.
– Leave to cool.
For the whipped cream
100g of liquid cream
40 g mascarpone
20 g caster sugar
Whip the cream with the mascarpone using an electric mixer. Add the caster sugar and vanilla.
Assembly
2 peaches
Mint leaves
– Cut the peaches into small pieces.
– Garnish with the bottoms of the tartlets.
– Place the peach cream in the middle and poach the whipped cream all around.
– Place the raspberry balls on top.
– Decorate with a mint leaf and a chocolate tail.
[pvc_stats postid="" increase="1" show_views_today="1"]