Material used
– Klassik Silikomart tart ring mould
– Micro perforated silicone baking mat
– Forosil strip
– Pavoni silicone mould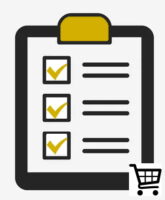 Ingredients
Homemade praline
✔100g hazelnuts
✔100g almonds
✔100g caster sugar
Pear mousse (the day before)
✔120g pears
✔20g icing sugar
✔2g gelatine (210 bloom)
✔90g of liquid cream 30% MG
Almond cream
✔30g butter, ointment
✔30g almond powder
✔30g caster sugar
✔30g egg
Sweet dough
✔70g soft butter
✔130g flour
✔45 g icing sugar
✔1 pinch of salt
✔1 egg yolk
Baking
165°C
18-20 minutes
Pear topping
✔140g mixed pears
✔20g sugar
✔2g NH pectin
Tuile feuille
✔25g sugar
✔12g flour
✔12g melted butter
✔15g egg white
Homemade praline
✔100g hazelnuts
✔100g almonds
✔100g caster sugar
Pour the hazelnuts and almonds onto a baking tray and bake at 150°C for 15 minutes. In a saucepan, pour the caster sugar and make a caramel. When the caramel has a nice colour, pour it onto a sheet of baking paper and leave to cool, then cut into pieces. Place the hazelnuts (having rubbed them to remove the skin), the almonds and the cooled caramel in the bowl of a blender and blend until you have a hazelnut/almond praline. You will have some praline left over for other recipes.
Pear mousse (the day before)
✔120g pears
✔20g icing sugar
✔2g gelatine (210 bloom)
✔90g liquid cream 30% MG
Put the gelatine in a bowl of cold water. Heat the pear puree in a saucepan and add the drained gelatine off the heat. Mix well and set aside. Whip the cream with the sugar. Stir the whipped cream into the pear purée and fill the Klassik silicone ring mould and place in the freezer.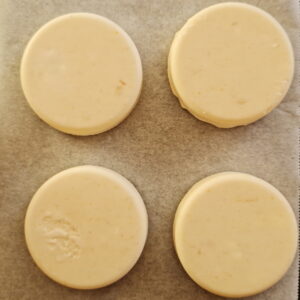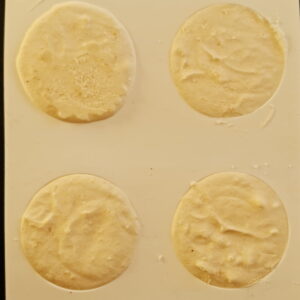 Almond cream
✔30g butter, ointment
✔30g almond powder
✔30g caster sugar
✔30g egg
Work the softened butter with the sugar. Add the almond powder and the eggs. Mix and set aside.
Sweet dough
✔70 g soft butter
✔130 g flour
✔45 g icing sugar
✔1 pinch of salt
✔1 egg yolk
Mix all the ingredients together, roll out and place in a cool place. Roll out the pastry thinly between 2 sheets of baking paper. Line the Silikomart tartlet circles, having previously placed a Forosil strip in the mould and prick the pastry with a fork. Place in the freezer while you preheat your oven. Divide the almond cream between the tarts. Bake the tarts on a micro perforated baking mat at 165° for about 18 to 20 minutes. Leave to cool.
Pear topping
✔140g mixed pears
✔20g sugar
✔2g NH pectin
In a saucepan, pour the mixed pears and heat through. In a small bowl, mix the sugar and pectin. Add this mixture to the pan and mix well. Bring to the boil and cook for 1 minute. Allow to cool.
Tuile plume
✔25g sugar
✔12g flour
✔12g melted butter
✔15g egg white
Mix all the ingredients together. Line a baking tin (in this case the Pavoni brand tin used). Place in the oven at 170 °C. Keep an eye on the cooking time as it is very quick 6 to 8 minutes. Turn out of the oven. Be careful, they harden very quickly.
Assembly
Place a spoonful of praline in each tartlet, followed by pieces of pear cut into small pieces.
Frost the frozen pear mousse when the glaze is below 40°C and place on the tartlets. Decorate with almonds all around the tartlet. Place in a cool place until ready to eat. Place the tuile on the tartlet just before serving.