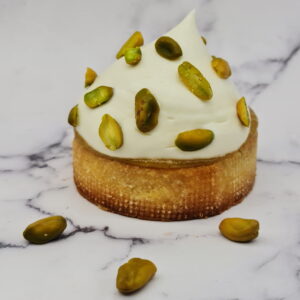 Pistachio and orange blossom tartlet made with
– sweet pastry
– pistachio cream
– pistachio ganache
– a pistachio praline insert
– orange blossom ganache
Decoration with unsalted pistachios
Material used
– Micro perforated baking mat
– Micro-perforated strip
– 24mm plain tip
– Silikomart tart rings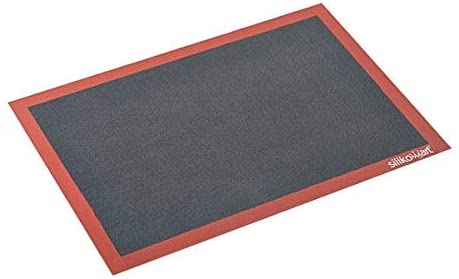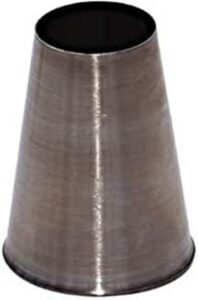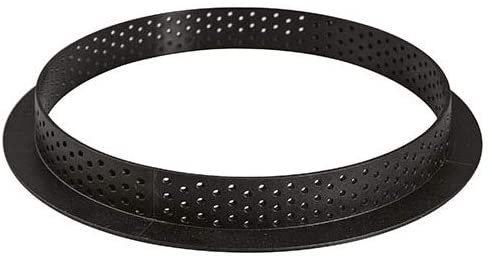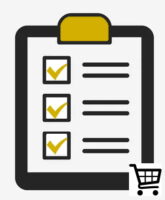 Ingredients
Pistachio praline (the day before)
✔100g unsalted, shelled pistachios
✔50g caster sugar
Orange blossom mounted ganache (the day before)
✔40g white chocolate
✔45g liquid cream 30% MG
✔1 leaf gelatine 1g
✔70g liquid cream 30% fat
✔4g orange blossom
Sweet dough
✔85g flour
✔50g butter
✔35g icing sugar
✔1 pinch of salt
✔15g egg yolk
Pistachio cream
✔25g ointment butter
✔25g unsalted pistachio powder (Mix unsalted and dehusked pistachios)
✔25g sugar
✔25g eggs
For 4 tarts
Pistachio praline (the day before)
✔100g unsalted, shelled pistachios
✔50g caster sugar
Roast the pistachios on a baking tray for 15 minutes in the oven at 150°C. Make a caramel with the sugar and pour onto baking paper. When it has cooled, break it into pieces and put it in the bowl of a blender. Add the pistachios and blend until you have a praline. Be careful, you need a good blender. Then fill a Silikomart half-sphere mould x15 with the pistachio praline and place in the freezer for at least 4 hours.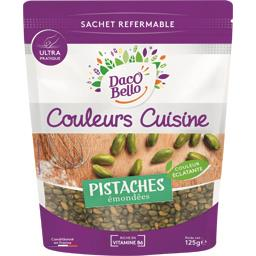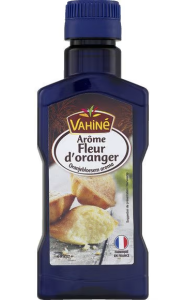 Orange blossom mounted ganache (the day before)
✔40g white chocolate
✔45g liquid cream 30% MG
✔1 sheet of gelatine 1g
✔70g liquid cream 30% fat
✔4g orange blossom
Heat, in a small saucepan, the 45g of liquid cream. Pour over the melted white chocolate. Mix well. Add the gelatine sheet, well wrung out and previously softened in a bowl of cold water. Finally, add the remaining 70g of liquid cream and the orange blossom. Mix well. Cover with cling film and chill overnight.
Sweet dough
✔85g flour
✔50g butter
✔35g icing sugar
✔1 pinch of salt
✔15g egg yolk
Mix all the ingredients together, roll out and put in the fridge for 1 hour. Roll out the pastry between two sheets of greaseproof paper then detail circles with a cookie cutter. Line the tartlet circles. Place in the freezer for a few minutes while you preheat your oven. Bake at 180°C for about 10 minutes.
Pistachio cream
✔25g butter, softened
✔25g unsalted pistachio powder (Mix unsalted and dehusked pistachios)
✔25g sugar
✔25g eggs
Mix all the ingredients together. Top the pre-baked tarts and bake for a further 15 minutes. Allow to cool and then remove from the mould.
Pistachio ganache
✔50g white chocolate
✔50g liquid cream
✔30g pistachio praline
Heat the cream in a small saucepan and pour it over the previously melted white chocolate. Mix and add the pistachio praline. Mix, leave to cool a little and then fill the tartlet bases.
Assembly
Turn out the frozen pistachio praline half-spheres and place them on the pistachio ganache. Beat the orange blossom ganache with an electric mixer and poach on the tarts. I used a large 24mm plain tip. Decorate with unsalted pistachios cut in half. Place in the fridge (at least 1 to 2 hours for the praline to defrost) until ready to eat.