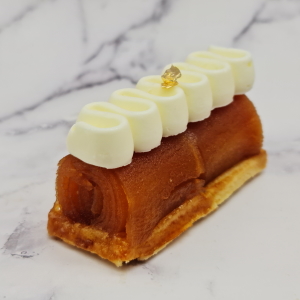 Tartelette tatin composed of
– a sweet pastry
– apples cooked in caramel
– mascarpone whipped cream
Material used
– Silikomart midi log mould 9 cavities
– Silikomart mould kit pop eclair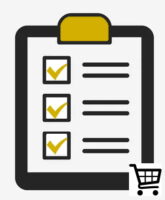 Ingredients
For the mascarpone whipped cream 
20g sugar
100g of liquid cream 30% MG
40g of mascarpone
For the caramel
140g sugar
50g water
80g butter cut into pieces
For the sweet pastry
70g flour
20g caster sugar
30g butter
A little egg yolk
1 pinch of salt
Baking
160°C
30 + 35 minutes
For 5 tarts
For the mascarpone whipped cream 

20g sugar

100g of liquid cream 30% MG

40g of mascarpone
Whip the cream and mascarpone with an electric mixer. Gradually add the caster sugar. Line the silicone mould and place in the freezer for at least 3 hours.
For the caramel

140g sugar

50g water

80g butter cut into pieces
Make the caramel in a pan with the water and sugar. Once it has a nice colour, lower the heat and add the butter cut into pieces in several stages. Mix and pour into the moulds.
Cut out apples with a strip cutter and roll them in your moulds on the caramel. Bake for 30 minutes at 160°C. Pack the apples when they come out of the oven.
For the sweet pastry

70g flour

20g caster sugar

30g butter

A little egg yolk

1 pinch of salt
Mix all the ingredients together, roll out and put in the fridge. Roll out the pastry with a rolling pin and cut it into rectangles the size of your moulds. Place on top of the apples and bake for another 35 minutes. Leave to cool a little and remove from the mould.
Place the frozen whipped cream on the completely cooled tartlets. Decorate with gold leaf. 
Place in a cool place until ready to eat.