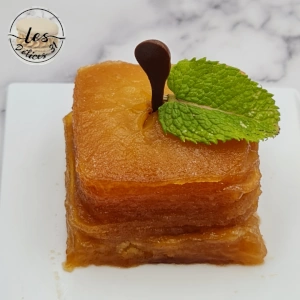 Tartlet tatin cube made with
– sweet pastry
– apple cubes
– caramel
Materials used
– 8-cube Silikomart mould
– Baking paper
– Rolling pin
– Mandolin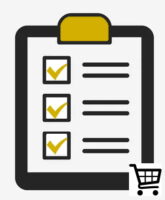 Ingredients
For the caramel

140g sugar

50g water

80g butter, cut into pieces
6-7 apples
For the sweet pastry

100g flour

30g caster sugar

50g butter

A egg yolk

1 pinch of salt
Cooking time
160°C
30 + 35 minutes
For 6 tartlets
For the caramel

140g sugar

50g water

80g butter, cut into pieces
Make the caramel in a saucepan with the water and sugar. Once it has a nice colour, lower the heat and add the butter, cut into pieces, in several batches. Mix well and spread into the cavities of the silikomart mould.
Peel the apples and cut into slices using a mandolin. Then cut out squares of apples using a cookie cutter. Stack your apple squares and place them in your silikomart mould on top of the caramel. Bake for 30 minutes at 160°C. Pack the apples when they come out of the oven.
For the sweet pastry

100g flour

30g caster sugar

50g butter

A egg yolk

1 pinch of salt
Mix all the ingredients together, cover with cling film and chill in the fridge. Roll out the pastry with a rolling pin and cut into squares the size of the cavities in your tin. Place on top of the apples and bake for a further 35 minutes. Leave to cool slightly and remove from the mould.
I decorated them with a mint leaf and a little tail made from milk chocolate.