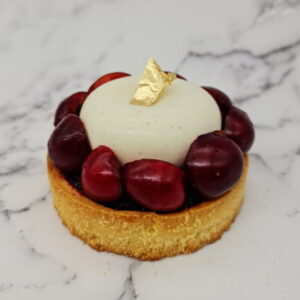 Vanilla and cherry tartlet composed of
– a sweet pastry,
– an almond cream,
– a cherry confit,
– a vanilla dome.
Material used
– Silikomart micro-perforated baking mat
– Silikomart perforated tartlet circles
– Silikomart Ode 50 single portion mould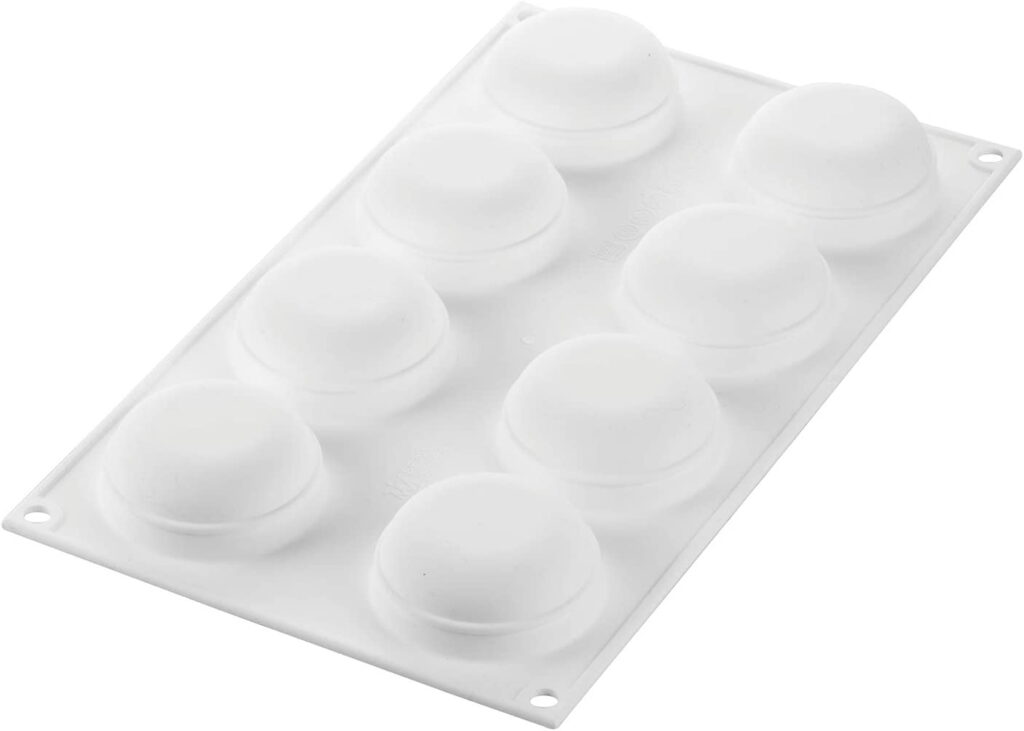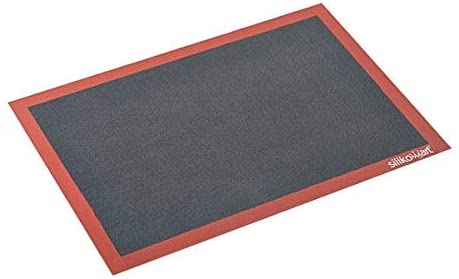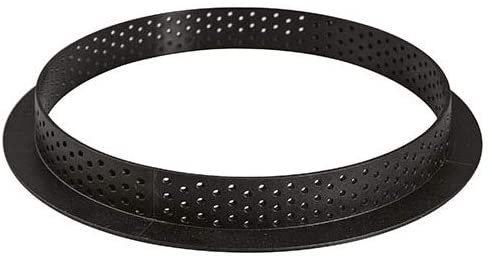 For 4 tarts
Vanilla mousse (the day before)
50g of liquid cream
50g white chocolate
vanilla powder
3g gelatine
100g cold liquid cream
10g icing sugar
Place the gelatine sheets in a bowl of cold water. In a saucepan, heat the 50g of liquid cream with the vanilla. Remove from the heat and add the wrung-out gelatine. Mix and set aside. Whip the cold cream with an electric mixer and add the icing sugar. Pour in the previous mixture and stir gently. Pour into the silicone mould and place in the freezer.
Sweet pastry
130g flour
45g icing sugar
70g butter
15g almond powder
1 egg yolk
1 pinch of salt
Mix all the ingredients together, roll out and refrigerate for 1 hour. Roll out the dough between two sheets of baking paper and cut out circles with a cookie cutter. Bake at 180°C for about 12 minutes.
Almond cream
20g of butter
20g icing sugar
20g almond powder
20g eggs
Mix the butter with the icing sugar. Add the almond powder and eggs. Pour into the bottom of the tarts and cook for about ten minutes. Leave to cool.
Cherry confit
100g cherry puree
15g caster sugar
3g pectin
Heat the cherry puree in a saucepan, then add the sugar and pectin mixture previously mixed in a bowl. Bring the mixture to the boil and keep it there for 2 minutes, stirring constantly. Leave to cool slightly and then garnish the tarts, smoothing the surface.
Assembly
Place the vanilla dome on the cherry confit. Cut in half, remove the stones and place the cherries all around. Decorate with a small gold leaf.