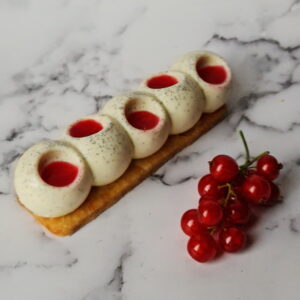 Vanilla and redcurrant tart composed of
– a sweet pastry,
– a vanilla mousse,
– and redcurrant jelly.
For 5 tarts
Vanilla mousse (to be made the day before)
80 g full cream
80 g white chocolate
5 g gelatine
160 g whipped cream
Vanilla pod from @bourbon_noire
20g icing sugar
Place the gelatine leaves in a bowl of cold water. In a saucepan, heat the 80g of liquid cream with the split black Bourbon vanilla pod. Turn off the heat, cover the pan and leave the vanilla to infuse for 15 minutes. Return the mixture to the heat and then, off the heat, add the gelatine (having first removed the vanilla pod). Pour over the melted white chocolate and mix. Set aside. Whip the cold cream with an electric mixer and add the icing sugar. Pour over the previous mixture and stir gently.
You can get a 10% discount with the code « LESDELICES31 » for the purchase of your vanilla on the bourbon_noire website.
Sweet pastry
70g flour
10g icing sugar
40g butter
1 egg yolk
1 pinch of salt
Mix all the ingredients together, roll out and put in the fridge. Roll out the pastry between two sheets of baking paper and cut out rectangles using @silikomart tartlet moulds. Place the pastry in the freezer for 10 minutes and bake at 180°C for about 12 to 15 minutes.
For the redcurrant jelly
80g of redcurrant puree
2 tablespoons of water
20g sugar (adjust if necessary)
1 sheet of gelatine (2g)
Soften the gelatine sheet in a bowl of cold water. In a saucepan, pour the water, redcurrant puree and sugar and heat. Remove from the heat and strain to remove any remaining skins, then add the wrung-out gelatine. Leave to cool and then pour into the vanilla mousse cells. Leave in the fridge until the jelly sets.