Materials used
– For the whipped cream, Silikomart Pop éclair mould
– Rectangular pastry frame 20X10cm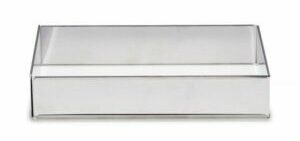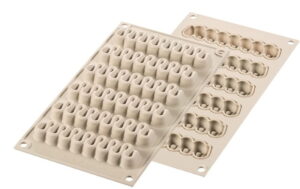 For 5 to 6 people
Dacquoise almonds (the day before)
70g egg whites
15g caster sugar
45g almond powder
40g icing sugar
Whisk the egg whites with the caster sugar. Sift in the almond powder and icing sugar. Stir gently.
Spread on a baking sheet and bake at 170°C for about 10 minutes.
Cut the biscuit to the size of your 20x10cm pastry frame. Place it in the bottom of your frame.
Melt a little white chocolate and sprinkle over the biscuit: Using a brush, apply a thin layer of chocolate over the entire surface of the biscuit to waterproof it and prevent the creamy mixture from soaking into the biscuit.
Peach cream (the day before)
300g peaches
20g sugar
2 egg yolks
2 sheets of gelatine (4g)
Hydrate the gelatine in cold water.
Heat the peach puree in a saucepan.
Mix the egg yolks and sugar in a bowl without blanching them and add the boiling puree to the mixture.
Return to the heat and thicken like a custard without exceeding 82/83°C.
Remove from the heat and add the gelatine. Stir and allow to cool slightly before pouring into the frame over the dacquoise.
Place in the freezer.
White chocolate vanilla mousse (the day before)
80 g full cream
80 g white chocolate
5 g gelatine
160 g whipped cream
1 vanilla pod from @bourbon_noire
20g icing sugar
Place the gelatine leaves in a bowl of cold water.
In a saucepan, heat the 80g of liquid cream with the split vanilla bean from Bourbon Noire. Turn off the heat, cover the pan and leave the vanilla to infuse for 15 minutes.
Return the mixture to the heat and then, off the heat, add the gelatine (remove the vanilla pod beforehand).
Pour over the melted white chocolate, mix and set aside to cool slightly and prevent the whipped cream from falling.
Whip the cold cream with an electric mixer and add the icing sugar. Pour in the previous mixture and stir gently.
Pour the mousse over the peach cream, making sure to leave 3 to 4 mm to make room for the jelly, and place in the freezer overnight.
For the raspberry jelly (the next day)
– 125g raspberry puree
– 20g water
– 3g gelatine
– 20g sugar
Soften the gelatine leaves in a bowl of cold water. Pour the water, raspberry puree and sugar into a saucepan and heat without boiling. Remove from the heat and strain through a sieve to remove all the raspberry seeds, then add the wrung-out gelatine. You may add a little water if the mixture is too thick, but do not exceed 120/130g total weight. Leave to cool and then pour over the frozen cake.
Leave in the fridge until the jelly sets. Carefully remove the frame and cut 0.5cm off each side of the cake, so that the layers are well defined. Cut into individual slices, decorate with whipped cream and leave to defrost in the fridge.
For the whipped cream I used the silikomart Pop éclair mould. 
I served it with some pan-roasted flaked almonds.