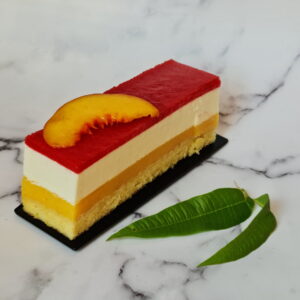 Peach, verbena and strawberry cake made of
– a joconde biscuit
– a yellow peach cream
– a verbena mousse
– a strawberry jelly
Material used
– Square pastry frame 15X15cm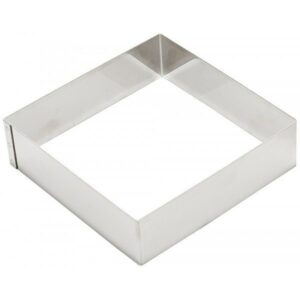 For about 5 to 6 portions
For the joconde biscuit (the day before)
75g almond powder
75g icing sugar
2 eggs
30g flour
2 egg whites
15g caster sugar
Pour the almond powder, icing sugar and flour into the mixer bowl. Add the eggs. Mix well. In another bowl, mix the egg whites with an electric mixer. Squeeze them with the powdered sugar. Gently add this mixture of egg whites to the previous mixture. Pour into your baking tray lined with baking paper, smooth and bake at 180°C for about 10/12 minutes. Leave to cool and then cut out the biscuit using your 15X15cm pastry frame.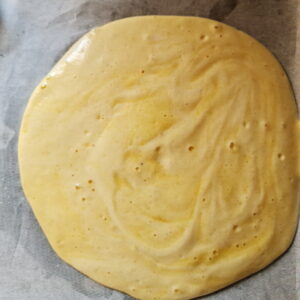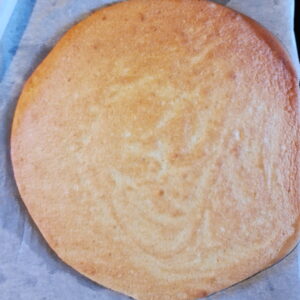 Peach cream (260g) (the day before)
3 yellow peaches
2 yolks
45g sugar
2 sheets of gelatine
Blend the peaches. As mine were not too ripe, I cooked them in a syrup (water, sugar) for about 15 minutes and kept the syrup to soak my joconde biscuit during assembly.
Hydrate the gelatine in cold water. Heat the peach puree in a saucepan. Mix the egg yolks and sugar in a bowl without blanching them and add the boiling puree to the mixture. Return to the heat and thicken like a custard. Remove from the heat and add the gelatine. Leave to cool a little.
White chocolate verbena mousse 300g (the day before)
100g of cream
About ten verbena leaves
80 g white chocolate
5 g gelatine
160g whipping cream
20g icing sugar
Place the gelatine leaves in a bowl of cold water. In a saucepan, heat the 100 g of liquid cream with the verbena leaves. Turn off the heat, cover the pan and leave the verbena to infuse for 15 minutes. Return the mixture to the heat and then, off the heat, add the gelatine (having first removed the verbena leaves). Pour over the melted white chocolate, mix and set aside. Whip the cold cream with an electric mixer and add the icing sugar. Pour over the previous mixture and stir gently.
Assembly
In your 15 x 10 cm pastry frame, place your joconde biscuit in the bottom. Using a brush, soak the biscuit with the peach syrup. Then pour in the peach cream and place in the freezer for at least 15 minutes. Then pour in the verbena mousse and place back in the freezer overnight.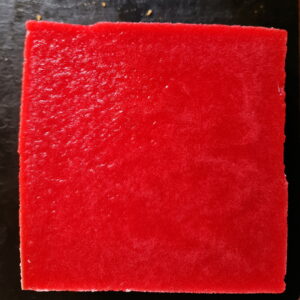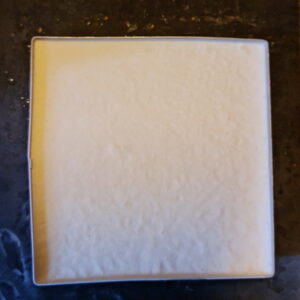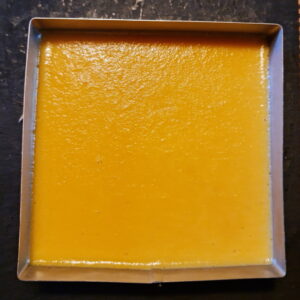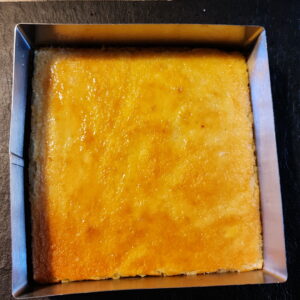 Strawberry jelly
125g strawberries, mixed and strained
25g caster sugar
10g water
3g gelatine
Soften the gelatine leaves in a bowl of cold water. Pour the water, mixed strawberries and sugar into a saucepan and heat without boiling. Remove from the heat and add the gelatine. Allow to cool and then pour over the frozen cake.
Leave in the fridge until the jelly sets. Carefully remove the frame and cut 0.5 cm off each side of the cake, so that the layers are well defined. Cut out individual slices, decorate with a piece of peach and thaw in the fridge.
[pvc_stats postid="" increase="1" show_views_today="1"]