Material used
– micro-perforated baking mat
– silikomart mini-dot X6 mould
– square baking frame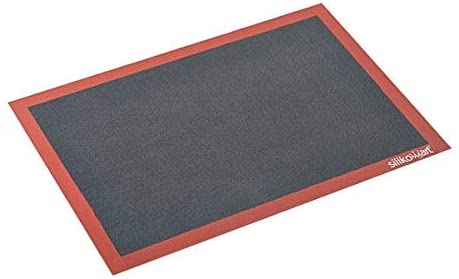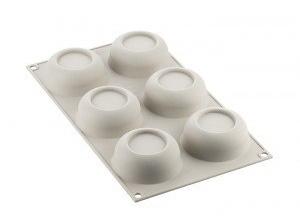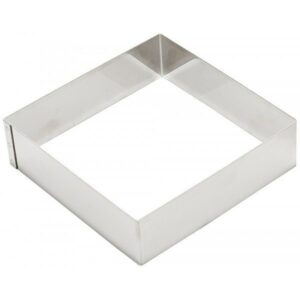 Cocoa biscuit (The day before)
30 g icing sugar
25 g almond powder
1 egg
5 g cocoa powder
1 pinch of salt
5 g flour
7 g melted butter
1 egg white
Mix the egg, icing sugar and almond powder in a bowl with an electric mixer.
Sift in the cocoa powder, flour and salt. Mix well.
Add the melted butter.
In another bowl, beat the egg white until stiff and fold it gently into the previous mixture.
Place on a baking tray lined with baking paper in a square baking frame for 10 to 12 minutes at 170°C.
Once the biscuit has cooled, use a biscuit cutter to cut out circles smaller than the diameter of your silicone mould.
Mint mousse (The day before)
100g cream
mint leaves
2 egg yolks
40g sugar
150g of liquid cream
4g gelatine
Place the gelatine leaves in a bowl of cold water.
In a saucepan, heat the 100g of liquid cream with the mint leaves. Turn off the heat, cover the pan and leave to infuse for 15 minutes.
Mix the yolks and sugar in a bowl. Heat the cream a little more and pour over the yolks (remove the mint leaves beforehand). Mix and pour into the pan. While stirring, heat to 82/83°C.
Remove from the heat and add the gelatine.
Mix and set aside.
Whip the cold cream with an electric mixer and add the icing sugar. Pour over the previous mixture and stir gently.
You may add 2-3 drops of mint flavouring if the taste is not strong enough for you.
Assembly
Pour the mint mousse into the silicone mould. Add the cocoa biscuit soaked with a brush on the inside with a syrup (water, sugar and cocoa) and put it back in the freezer.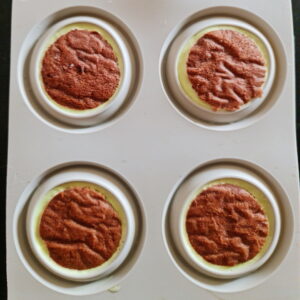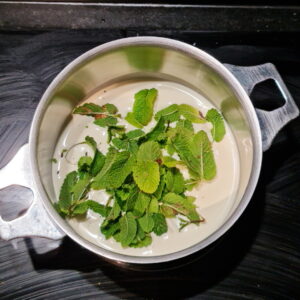 Sweet dough
70g flour
10g icing sugar
40g butter
1 egg yolk
1 pinch of salt
Mix all the ingredients together, roll out and put in the fridge.
Spread the dough between two sheets of baking paper and cut out circles with a cookie cutter.
Bake at 180°C between two sheets of micro perforated paper. Keep an eye on them and take them out as soon as they colour.
Dark chocolate icing
22 g sugar
22 g glucose
12 ml water
22 g dark chocolate
15 ml unsweetened condensed milk or cream
1 x 2g gelatine sheet
Heat the sugar, water and glucose in a saucepan. Remove from the heat and add the gelatine, wrung out and softened.
Pour this mixture over the chocolate. Stir well.
Add the condensed milk.
Use a hand blender to blend the mixture.
Remove the cakes from the freezer.
Cover immediately with the icing, which has been cooled to 35°C.
Leave in the fridge for a few minutes until the icing has set.  Decorate with mint leaves. Put back in the fridge until ready to eat.