Material used
– Silikomart tart ring mould Klassik
– Micro perforated silicone baking mat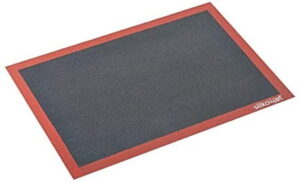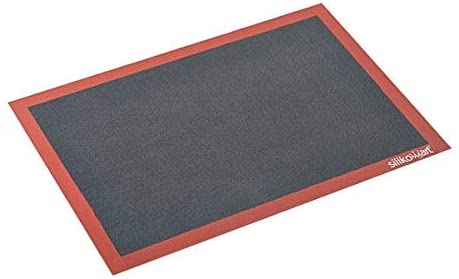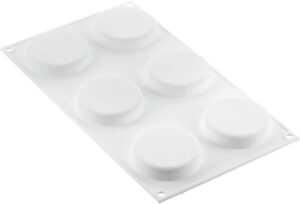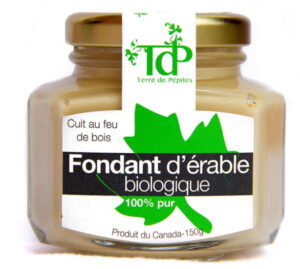 To make 5 tarts
Apple dome (the day before)
2 golden apples
40g caster sugar
50g butter
100g caster sugar
50g of liquid cream
2 x 2g gelatine sheets
Place the gelatine sheets in a large bowl of cold water.
In a saucepan, fry the diced apples with the butter and sugar. In another pan, make a caramel with the 100g of sugar. Add the hot cream and then remove the gelatine from the heat. Mix with the apples and place in the insert mould in the freezer overnight.
Sweet dough
140g flour
30g icing sugar
70g butter
1 egg yolk
1 pinch of salt
Mix all the ingredients together, roll out and refrigerate for 1 hour. Roll out the pastry between two sheets of greaseproof paper and cut out circles with a pastry cutter. Line the tartlet circles and prick the pastry with a fork. Place in the freezer for a few minutes. Bake at 180°C for about 10 minutes. 
Maple cream
1 egg yolk
40g maple fondant
100g of liquid cream
Heat the cream in a saucepan. In a bowl, mix the egg yolk with the maple fondant. Pour the hot cream over this mixture. Stir and pour the mixture into the pan. Heat over low/medium heat, stirring constantly, until 82°C. Spread into the pre-baked tart shells. Return to the oven for about 15 minutes. Monitor the cooking process and take them out as soon as they colour. Leave to cool.
Assembly
Make a chantilly with cold liquid cream with a minimum of 30% fat content and fill the tartlets. Smooth with a spatula. Place the apple domes and decorate with chopped almonds all around. Place in the fridge to let the tarts defrost.