Material used
– Slikomart half-sphere mould X15
– Silikomart fruit inspiration mould (« Ispirazioni Di Frutta »)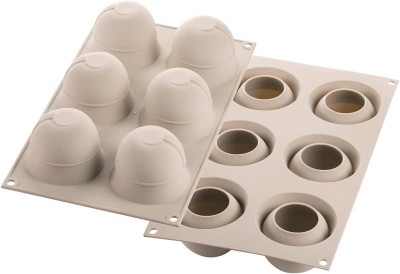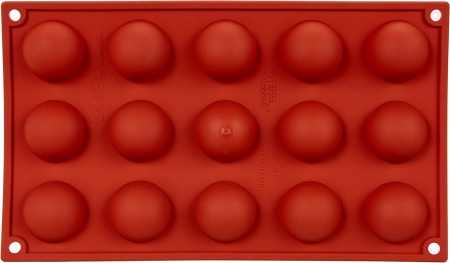 For 6 portions 
Peach compote (the day before)
100g white peaches, mixed
10g caster sugar 2g NH pectin
1 white peach
Mix the pectin and caster sugar in a bowl. In a saucepan, heat the mixed white peaches. Add the pectin/sugar mixture and bring to the boil for 1 minute, stirring with a whisk. Remove from heat. Cut a white peach into brunoise and add it to the previous mixture. Pour into half-sphere moulds and place in the freezer for at least 2 hours.
Honey and verbena madeleine biscuit (the day before)
25g butter
5g Martine honey
5-6 verbena leaves
20g powdered sugar
25g egg
25g flour
1 half teaspoon of yeast
In a saucepan, melt the butter with the honey and the verbena leaves. Set aside, covered, to allow the vervain to infuse for at least 15 minutes. In a bowl, mix the sugar and egg. Add the flour and yeast. Mix again. Pour in the strained butter/honey mixture to remove the verbena. Stir to combine. Pour onto a baking tray lined with baking paper. Smooth with an angled spatula to make the height even. Bake at 170°C for about ten minutes until lightly coloured. Leave to cool, then cut out the biscuit to the diameter of your tin using a biscuit cutter. Set aside.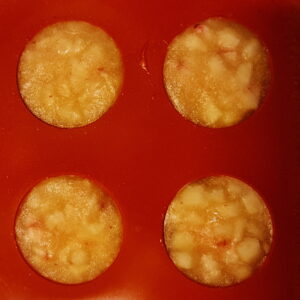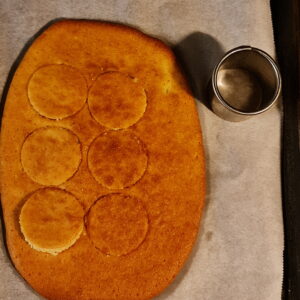 Peach mousse (the day before)
300g white peaches, mixed
200g of liquid cream
10g icing sugar
3 sheets of gelatine
Place the gelatine sheets in a bowl of cold water. In a saucepan, heat the 300g of mixed white peaches. Turn off the heat, add the gelatine. Leave to cool. Whip the cold cream with an electric mixer and add the icing sugar. Pour in the previous mixture and stir gently.
Assembly (The day before)
Pour the mousse into the silikomart mould halfway up. Add the frozen peach compote. Cover with a little mousse and finish with the madeleine biscuit. Place in the freezer overnight.
The next day, turn out the frozen entremets and apply the velvet sprays immediately. I started with a yellow spray and then a red spray. Place in the fridge (at least 4 hours) until ready to eat. I put a verbena leaf on the peach before serving.